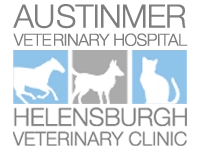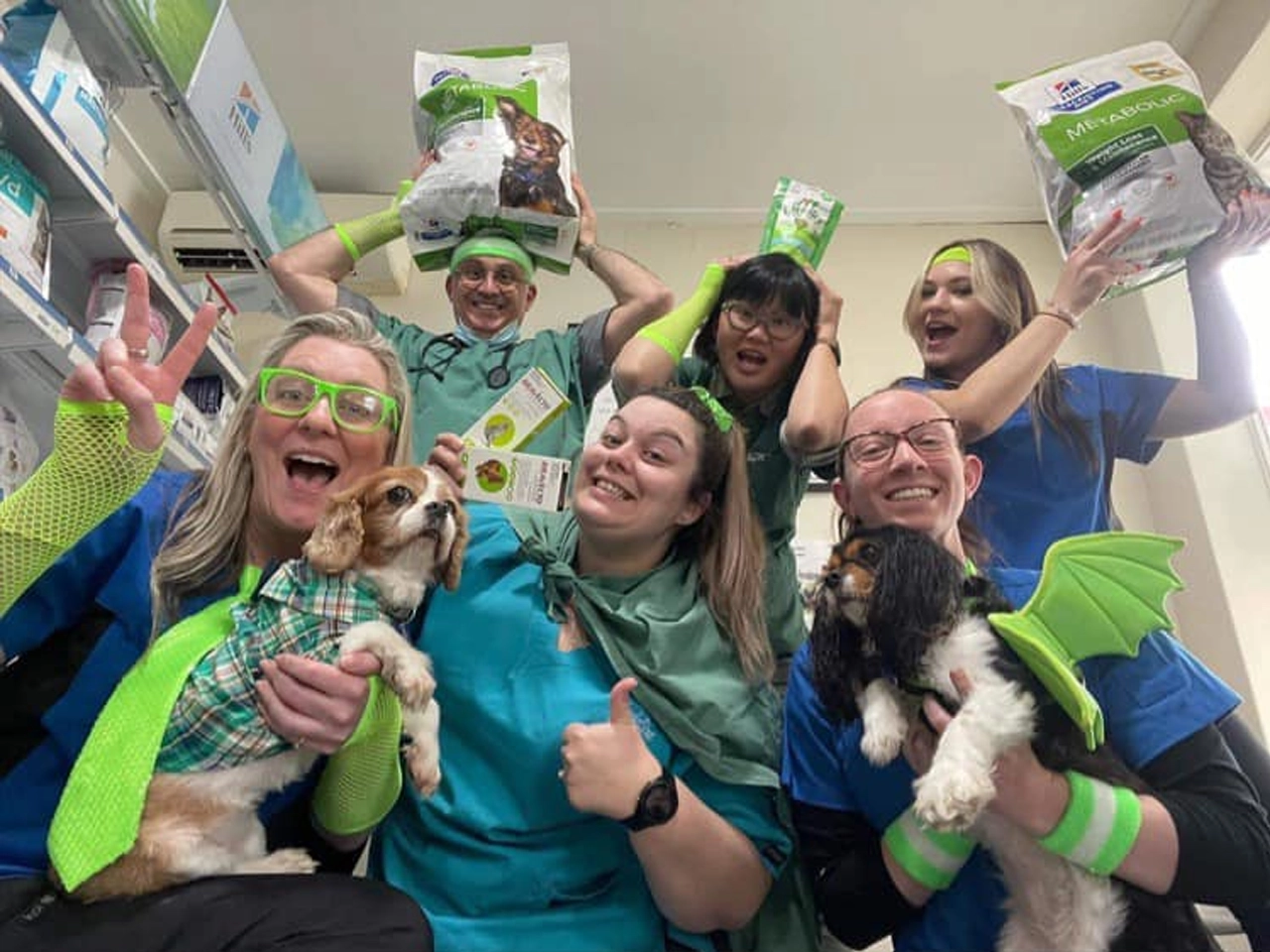 Meet Our Team 🐾
Meet the Team of dedicated and compassionate veterinarians, nurses and customer care staff here at Austinmer and Helensburgh Vets.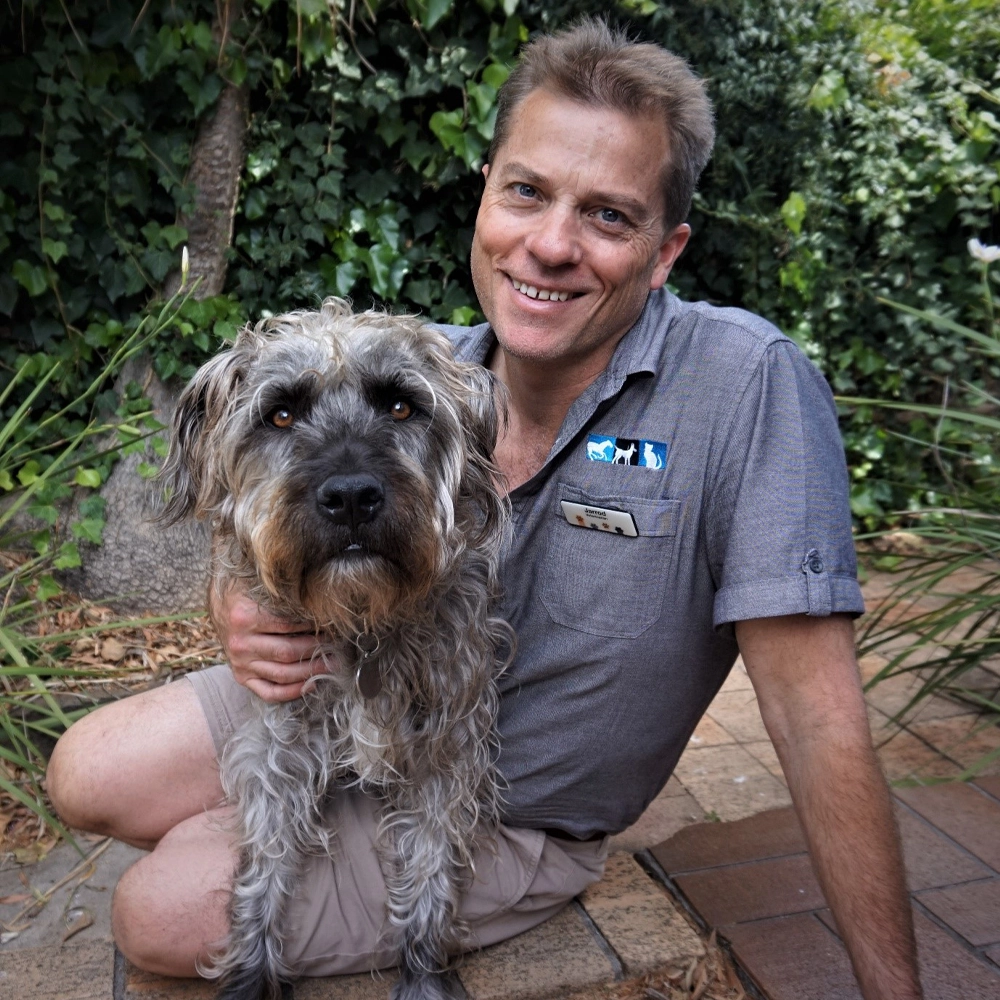 Dr Jarrod Coleman BVSc (Hons)
Owner and Veterinarian
Jarrod completed his veterinary degree at Sydney University in 1995, and has held a number of permanent and locum veterinary positions in both Australia and England.
Jarrod arrived in Austinmer for a 12 week locum in 2003, but years later is still here at Austinmer and Helensburgh vets!
He says "This is a wonderful area to live with great co-workers and fantastic clients committed to giving their pets the best possible care. Why would I want to work anywhere else?".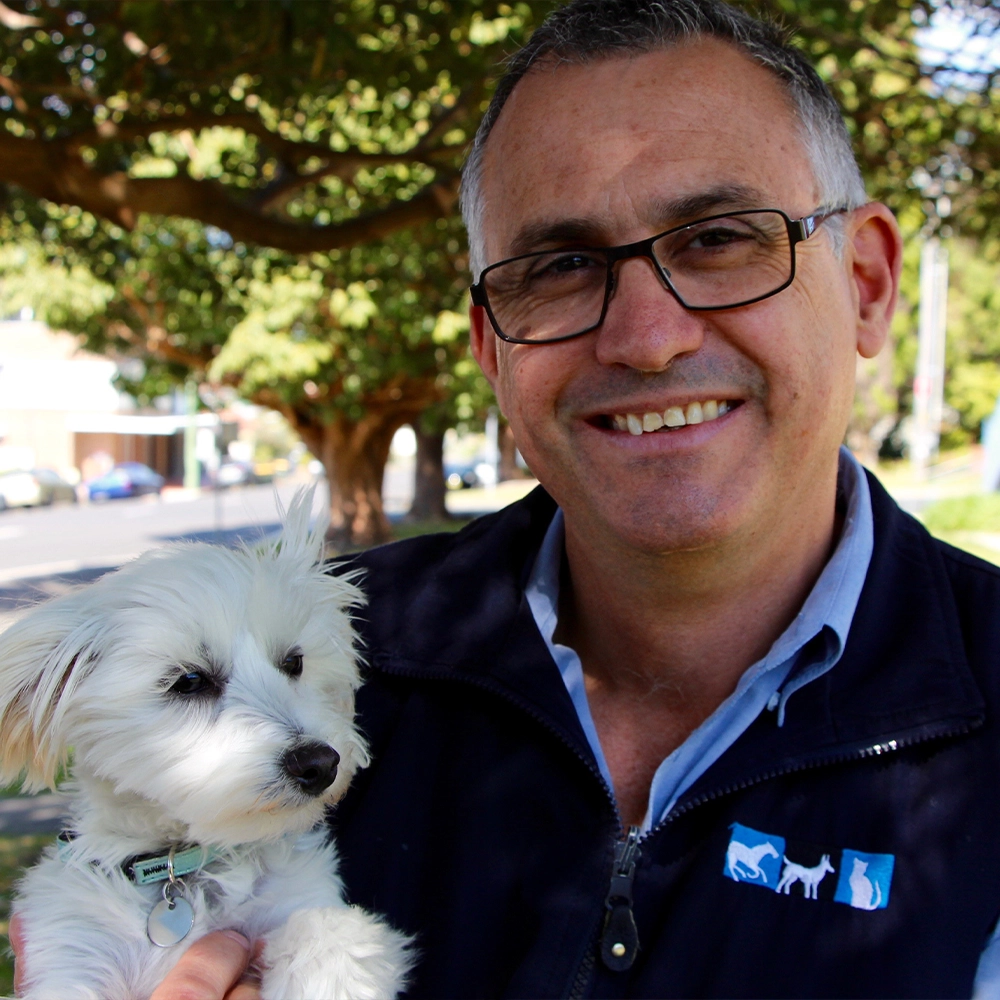 Dr Brad Gorham BVSc
Brad graduated from Sydney University with honours in 1984 and has been in small animal practice ever since.
Brad has been with us for many years and is a regular fixture at our Helensburgh Clinic. Brad enjoys spending time with his two children and traveling.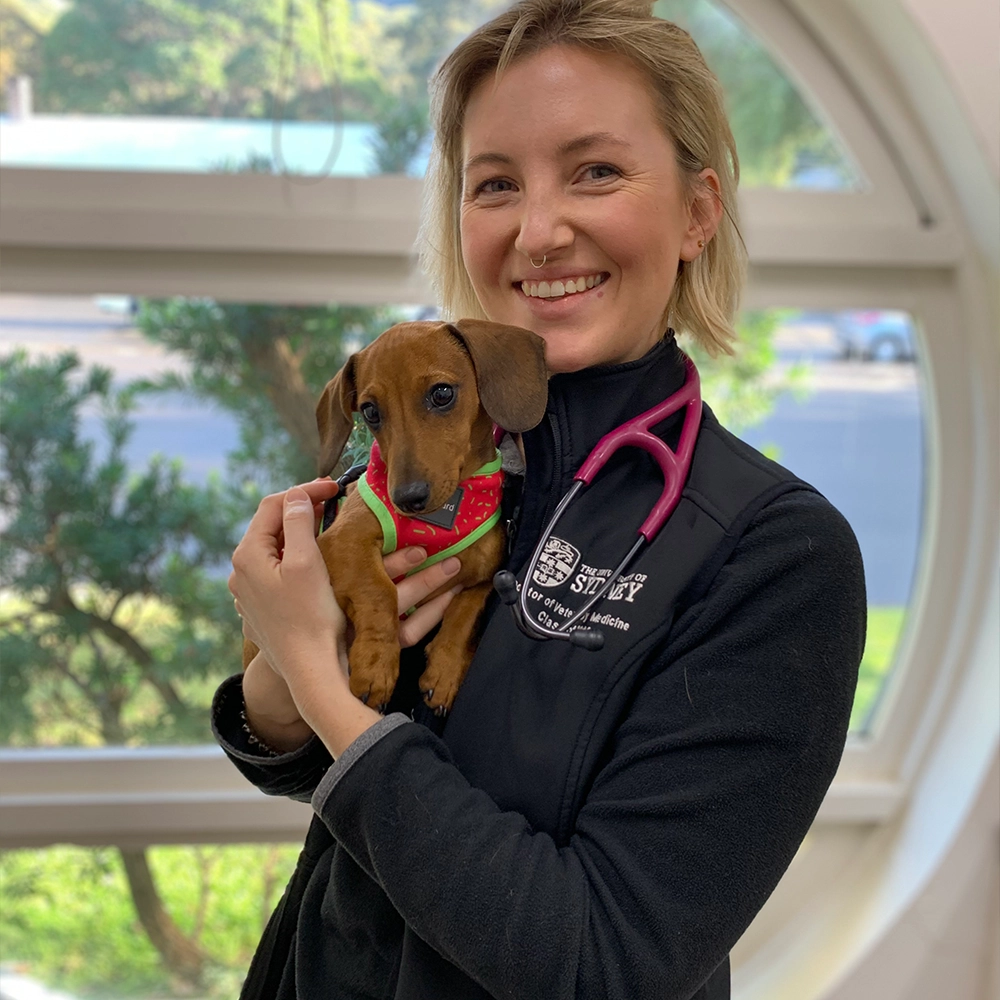 Dr Marielle Cleary DVM
Marielle graduated from the University of Sydney in 2019 with a Doctorate of Veterinary Medicine. She enjoys both surgery and medicine and is particularly interested in neurology, cardiology and soft tissue surgery.
When she isn't at work, Marielle can reliably be found getting stuck into various art projects or hanging out with her very handsome cat, Hugo.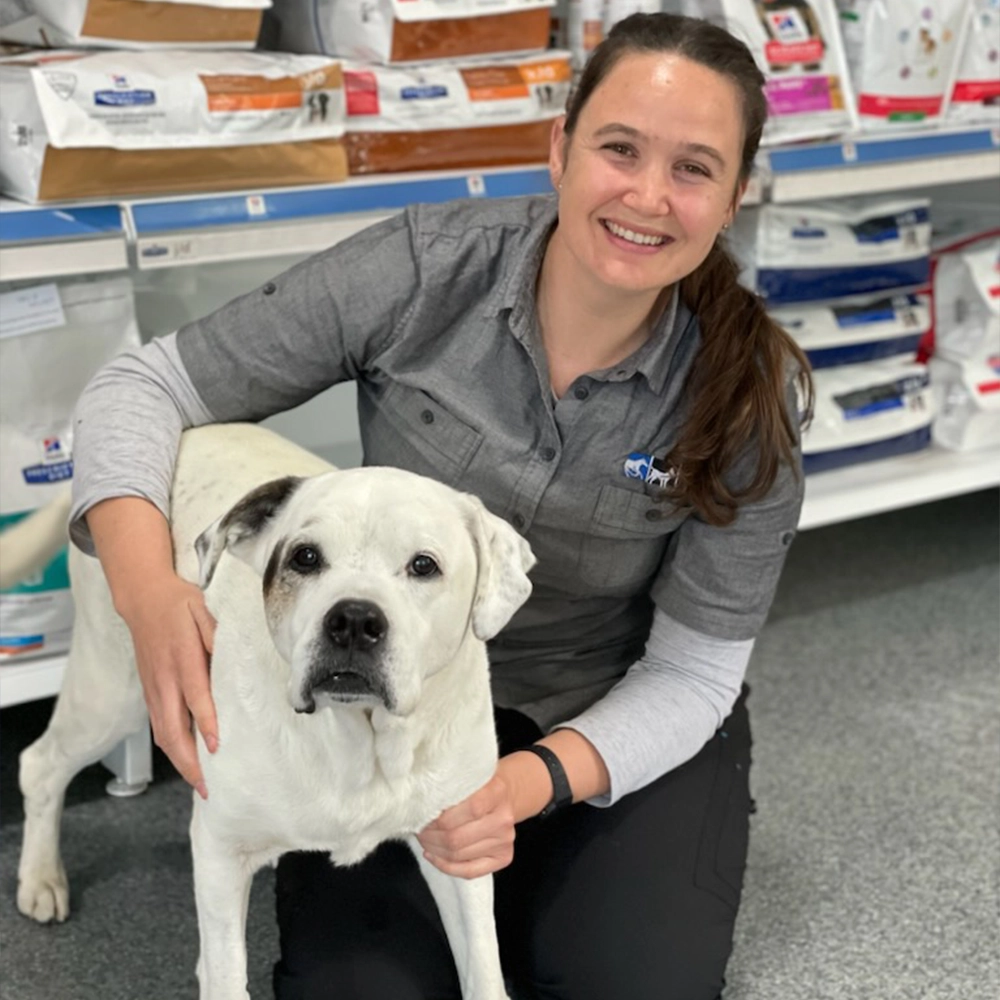 Dr Tamsin Paxton BVSc
Dr Tamsin graduated from JCU, Townsville in 2014. She joined our clinic in 2020 after her locum stint in 2019 working mostly at our Helensburgh Clinic.
Dr Tamsin has a menagerie of pets at home to keep her busy; Her beautiful 14yr old Boxer cross Coops and young whippersnapper Pumpkin the Cavoodle; 2 tuxedo cats Luna Lovegood and Minerva McGonagall and 4 guinea pigs Flour, Julia, Gladys and Waffle.
She loves to be in the garden and spending time with her dogs on the beach.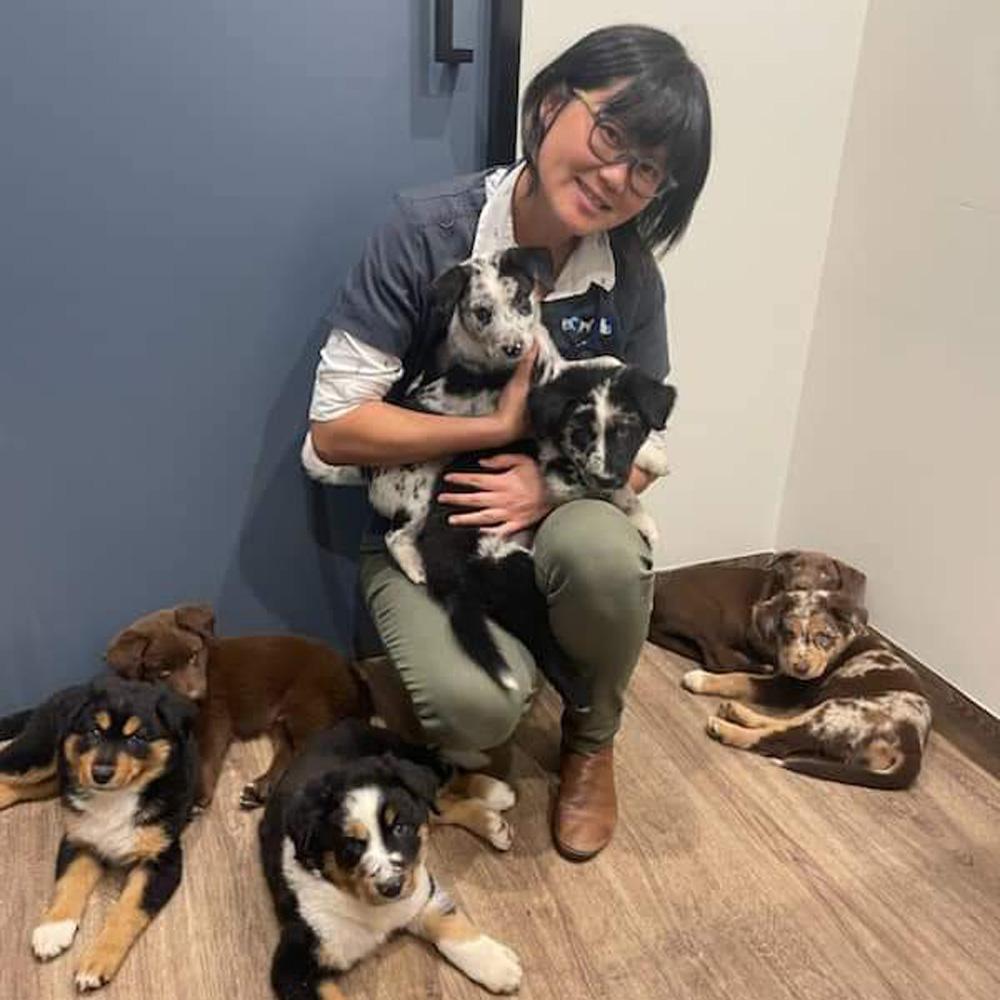 Dr Amelia Fung BVSc
Amelia joined our team in 2021 and mainly works from our Helensburgh clinic. Amelia has experience working in emergency centres and small animal clinics. Amelia has a passion for managing the more complex medical cases and finding a comfortable pain management program for our senior patients.
Amelia has spent 6 months working in the UK, she has volunteered in India for vets beyond borders, she has volunteered with AMRICC working closely with indigenous communities in Arnhem Land and she volunteers locally with the RSPCA.
In her spare time Amelia loves making the most of our gorgeous beaches, yoga, travelling and being a mum.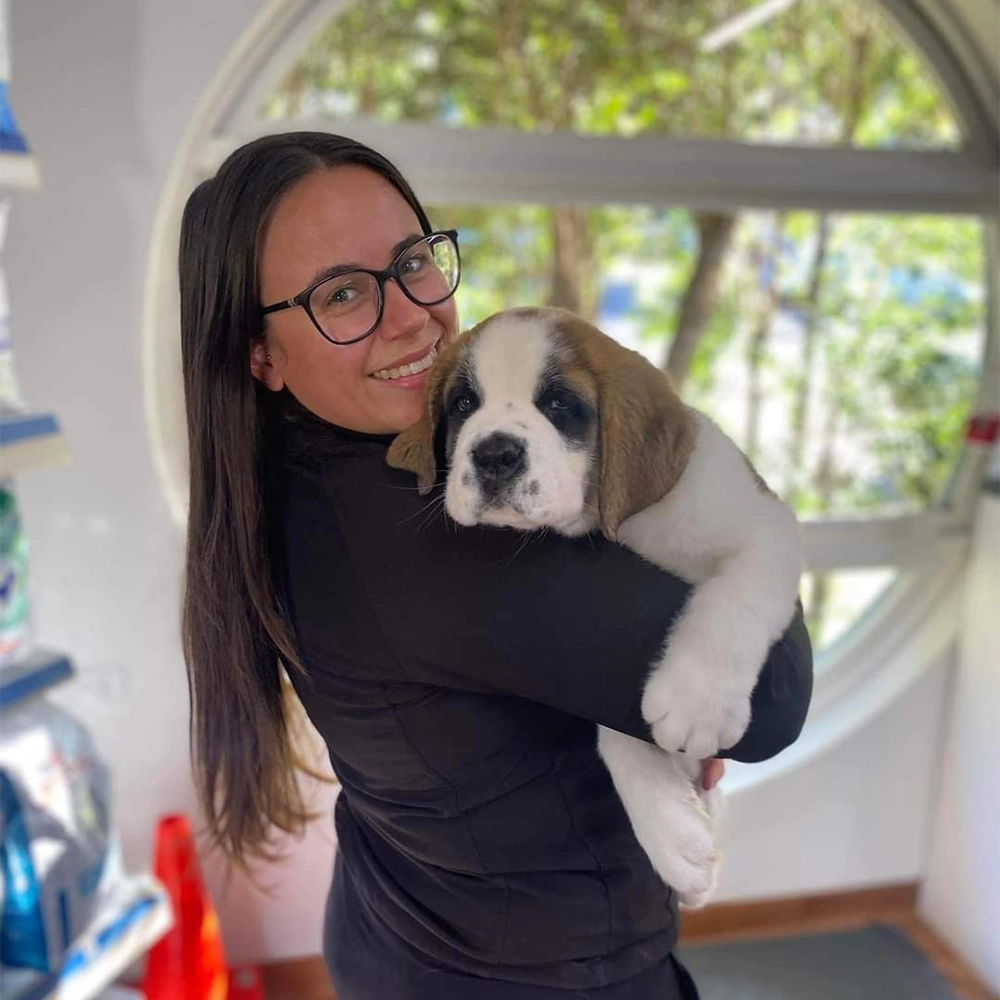 Dr Simone Armstrong BVSc
Dr Simone graduated Veterinary Science in 2020 and joined our team of vets in May 2022. She moved to the Wollongong area and enjoys hiking, kayaking and she is rarely seen out of work without her two beloved Rottweiler crosses.
Dr Simone has a strong passion for community outreach programs and has donated a lot of her personal time to programs improving animal health in aboriginal communities throughout Australia.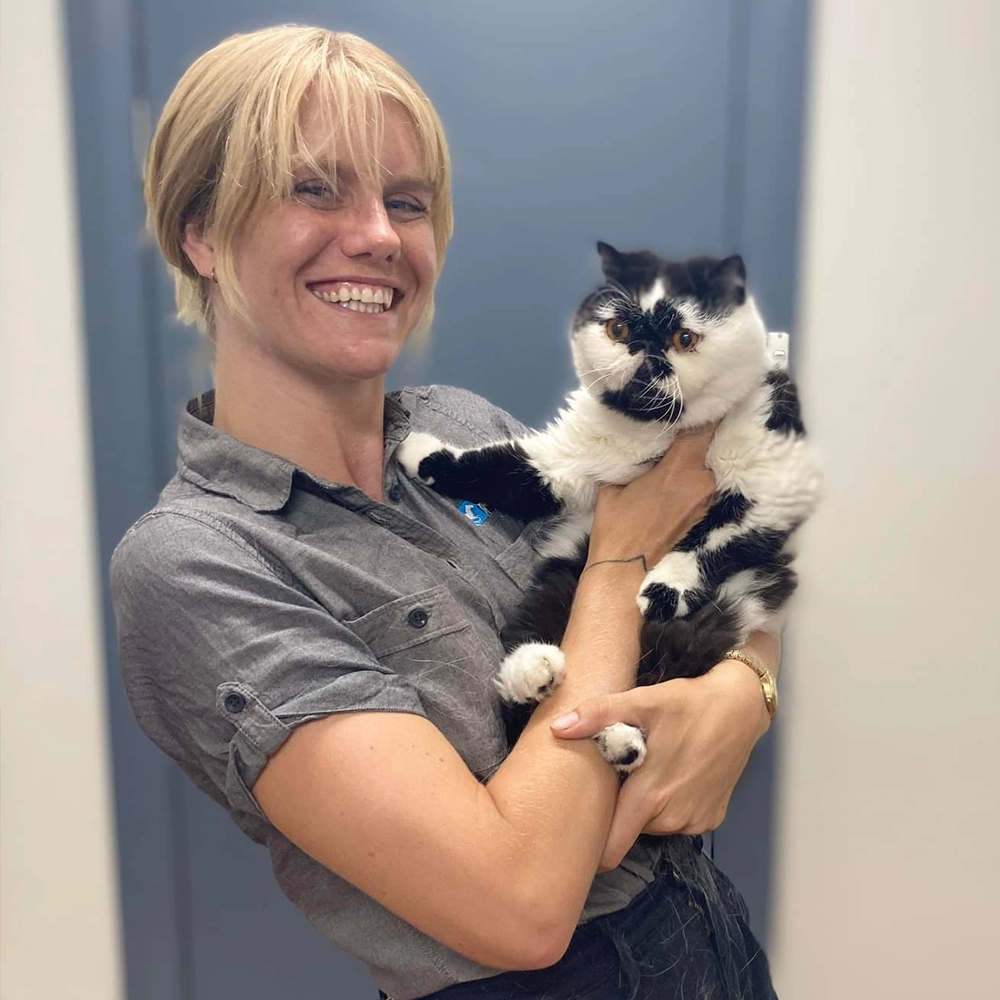 Dr Georgia Andrews BVSc
Dr Georgia graduated Veterinary Science from the University of Sydney in 2017. Since then she has worked in mixed practice on the south coast. Georgia has also worked and travelled around Australia and now settled in the Illawarra she has joined our team of vets looking after small animals.
Georgia says, 'she still loves the occasional goat call'.
When not at work you will find Georgia enjoying the great outdoors, surfing, hiking and kayaking.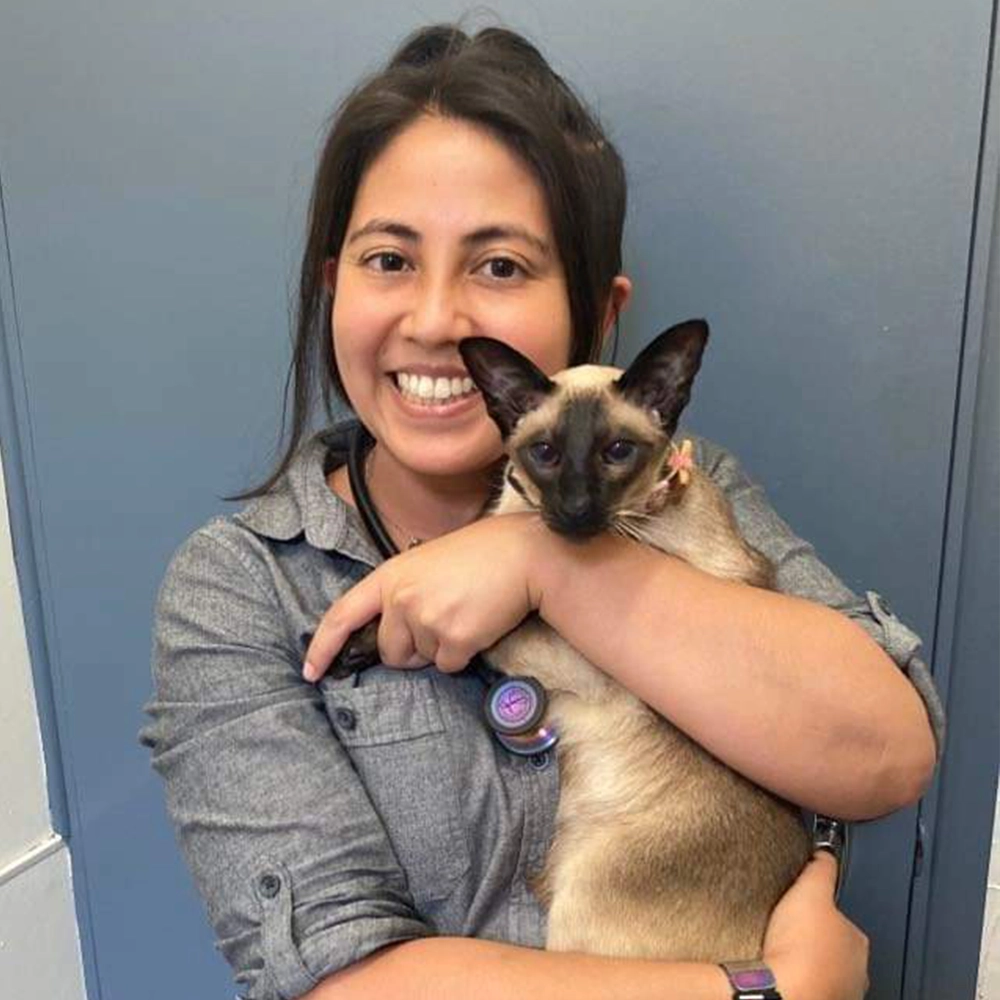 Dr Sarah Foo BVSc
Dr Sarah graduated veterinary science in 2022 with a published paper already under her belt as well as a John Holt scholarship for animal welfare.
Dr Sarah is no stranger to clinic life having qualified as a Veterinary Nurse while completing her Veterinary Science degree. She has a keen interest in surgery, animal welfare, nutrition, wildlife and exotics.
Dr Sarah has many animals at home to keep her busy when not at work including 2 dogs, 4 cats, 4 rabbits, a children's python, bearded dragon, a turtle, a quail and many fish.
Dr Sarah also loves to perform at various events, singing, playing the piano and ukelele.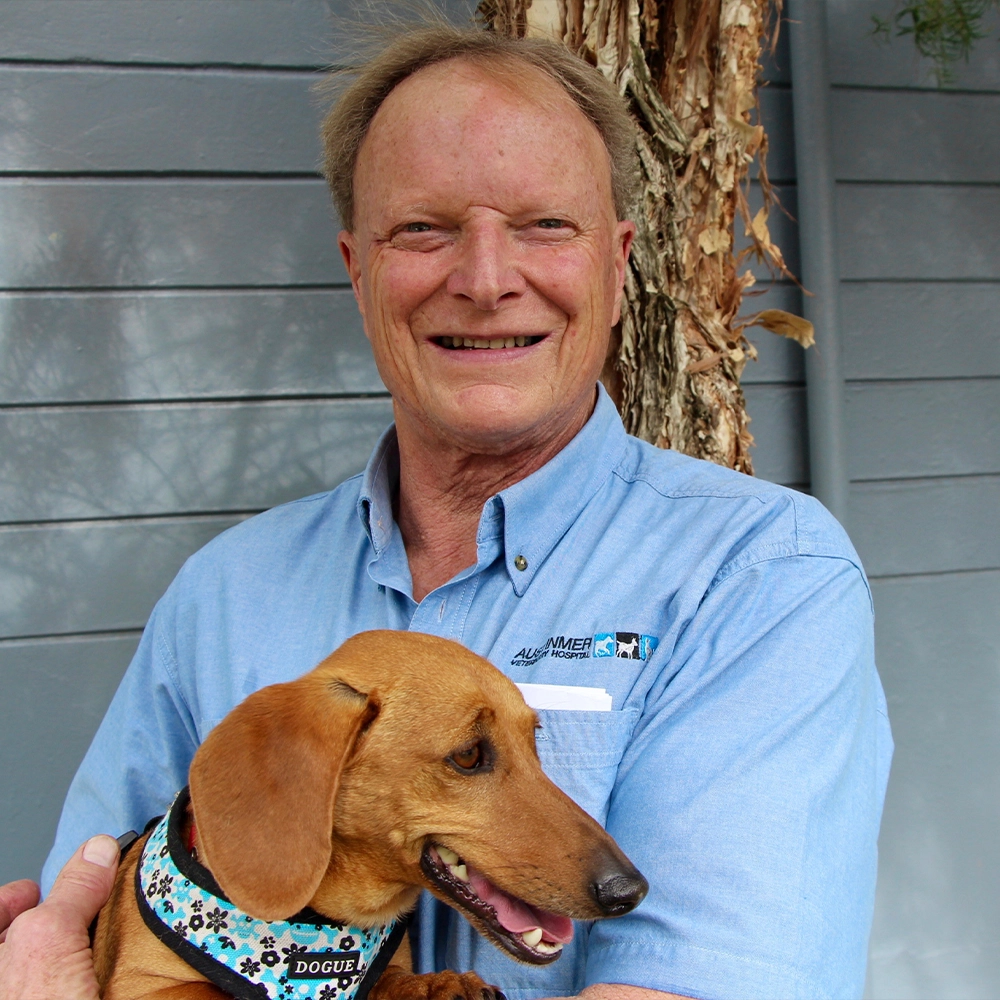 Dr Rick Prowse BVSc (retired)
After graduation from the University of Sydney in 1971, Rick came to work in the Wollongong area in 1972 and in 1995 he established the Austinmer Veterinary Hospital. The Helensburgh Veterinary Clinic was acquired in 2006.
After dedicating many many years to the care of animals great and small in the Illawarra region, building a very successful business and becoming a well loved member of the local community, Rick sold Austinmer Veterinary Hospital and Helensburgh Veterinary Clinic to Dr Jarrod Coleman in 2018 and in 2020 Rick hung up his stethoscope for the last time and retired from Veterinary medicine after a very successful career.
Home life is shared with his very supportive wife Roslyn who also worked with Rick for 20 years to build and manage the business. They have two very cute miniature Dachshunds… but, over the years, just about every conceivable animal type has shared in lodging at the Prowse house.
Rick and Ros will always be loved and respected members of the Austinmer and Helensburgh family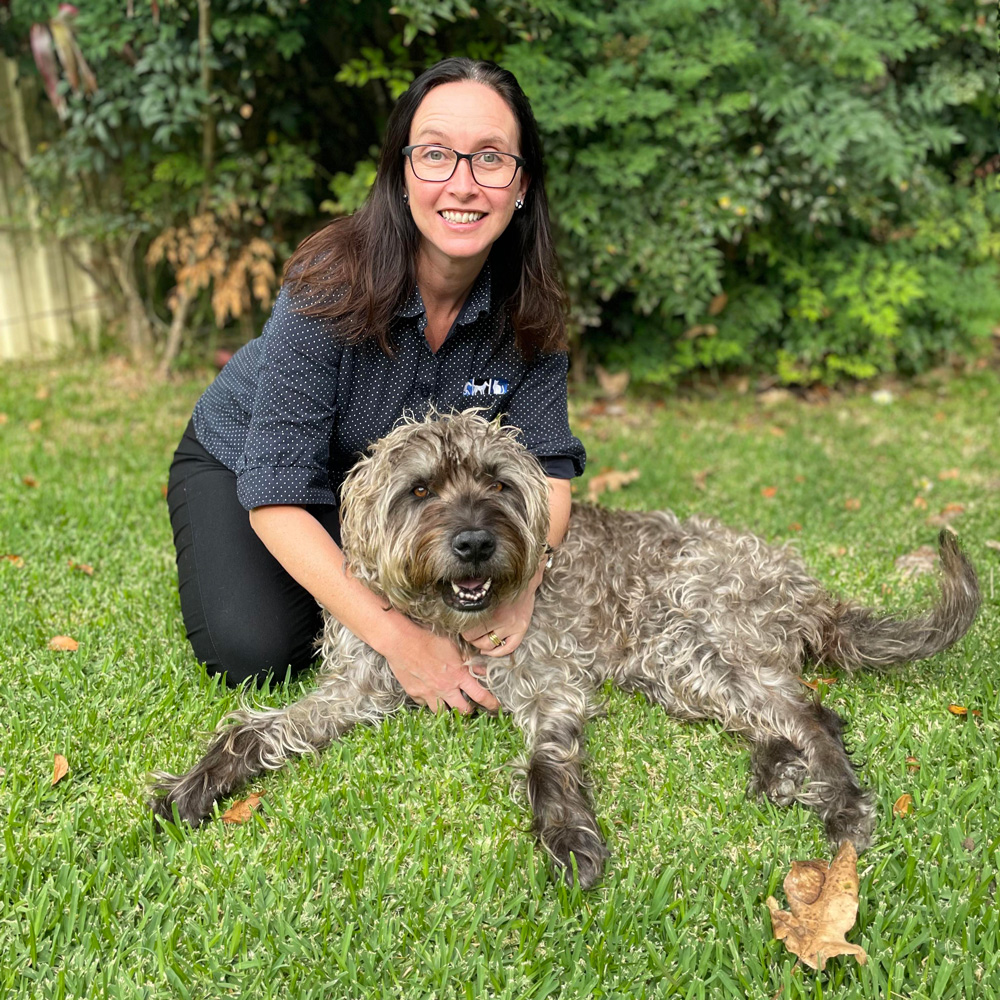 Emily Coleman
Veterinary Nurse
Emily's Bio
Emily began working as a veterinary nurse in 1994 in the UK and still loves working as a veterinary nurse 20+ years later. She arrived in Australia in December 2000 for a year of travel and work and is still here!
Emily has a keen interest in nursing the hospitalised patients whether it's for medical reasons, recovering surgical patients or the emergency patient, she also enjoys that every day is different.
Emily also spent 15 years teaching in the animal science department at TAFE, she is now enjoying the challenge of her new role of looking after our nursing team.
When not at work Emily enjoys exploring this beautiful area, traveling especially to the UK and being a mum. She has 2 rescue cats who will break into any cupboard , bag or container to steal food and a beautiful rescue wolfhound cross called Maisy.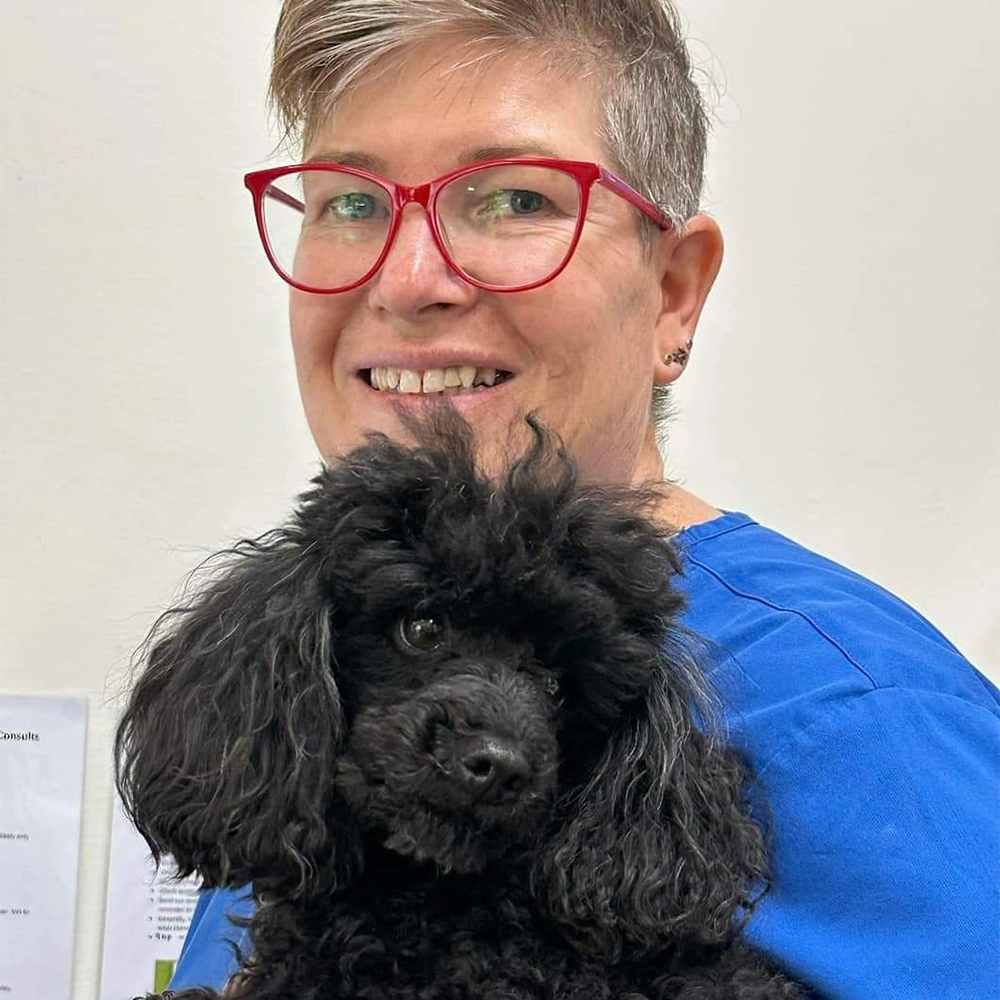 Jenny North
Veterinary Nurse
Jenny's Bio
Jenny has been one of our longest standing team members for over 20 years. She has a keen interest in dog training and behaviour and has taught puppy preschool for many years, she is known to our clients and dogs a like as the 'treat lady'!
You will find Jenny manning the front desk at the Austinmer Veterinary hospital 5 days a week always ready to help.
Jenny shares her home with her two beloved sons, two Labradors, Bones and Penny, two Burmese cats Copper and Eric, two rescued Moggies called Baby and Marvin , Pod the bearded dragon and Drumstick the Rainbow Lorikeet.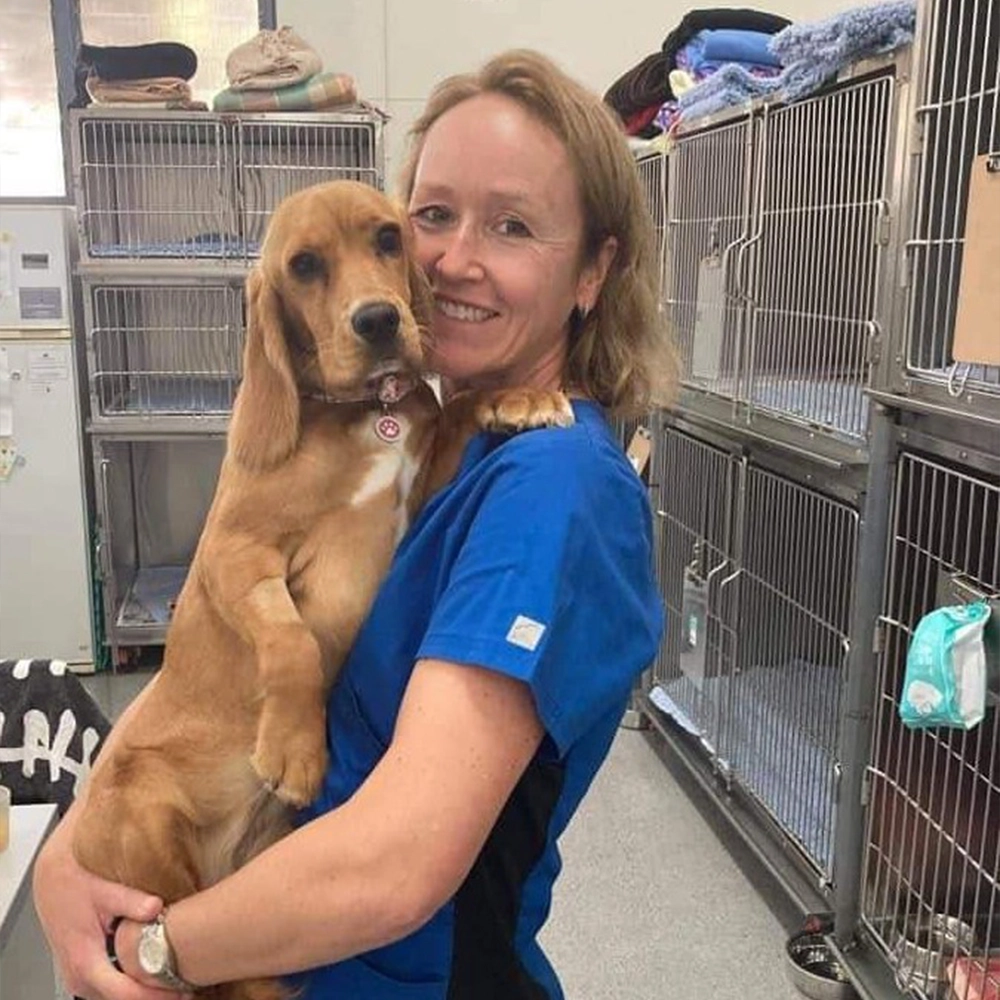 Maddie Haglund Gaunt
Veterinary Nurse
Maddie's Bio
Maddie joined us in 1999 after finishing her psychology degree. Luckily for us she enjoyed all aspects of Veterinary nursing and working with a fantastic team so much she never left and is now one of our senior nurses and office manager.
When Maddie is not looking after our patients and their families she will be found in the ocean scuba diving.
Maddie has 3 pets, Jet the black Labrador, Dee the Kelpie and a cuddly brown Burmese called Titchi.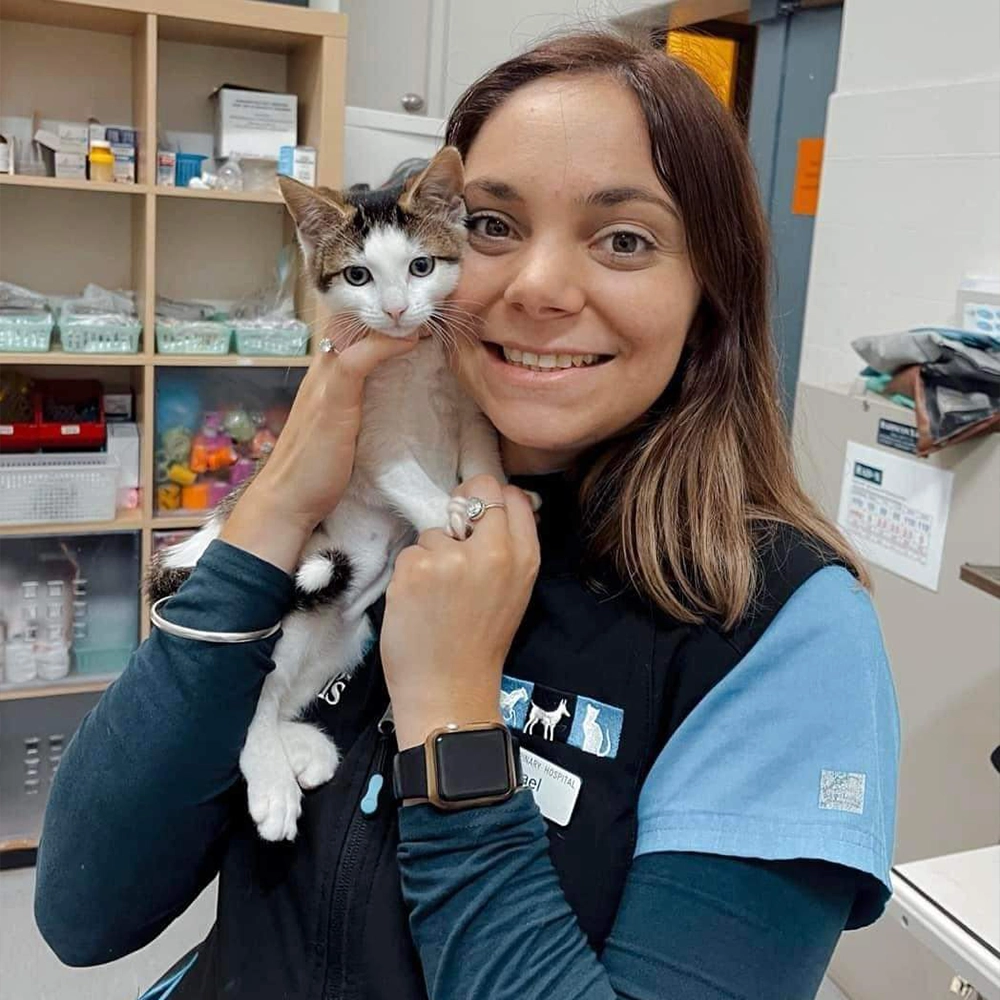 Rachael Bison
Veterinary Nurse
Rachael's Bio
Rachael joined our team in 2012 when she was starting out in her veterinary nursing career. With her caring, compassionate personality and thirst for knowledge it quickly became obvious she was going to become an excellent veterinary nurse. She is now our nurse team leader at the Austinmer Veterinary Hospital.
Her favourite part of each day is helping the animals in any way she can.
Rachael has 2 rescue cats, Simba and Keith and the latest edition is beautiful Willow an energetic border collie.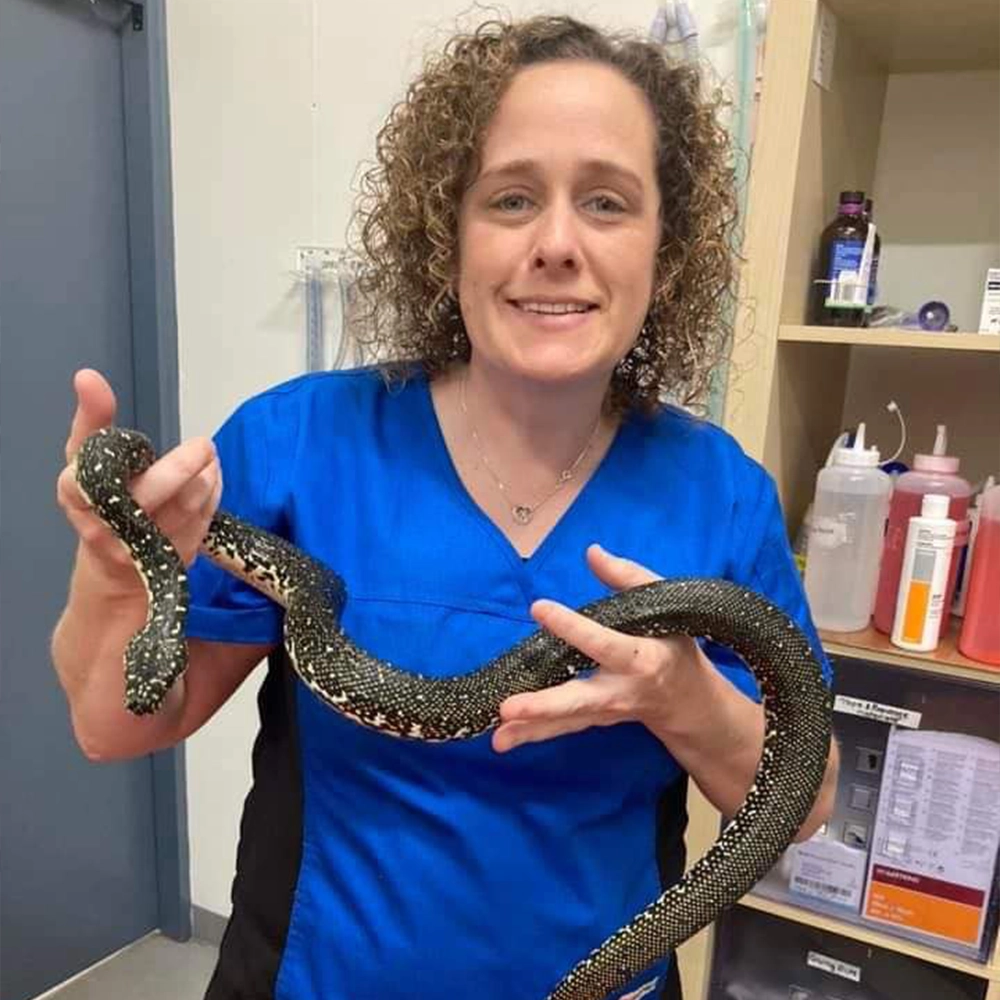 Rhianna Padwick
Veterinary Nurse
Rhianna's Bio
Rhianna has been with us since 2015, she is a very experienced nurse with a love for the exotics. One of Rhianna's most memorable moments from the last 20 years of nursing was assisting to x-ray and splint the leg of a crocodile!
You will find Rhianna at our Austinmer Hospital full of energy and ready to help.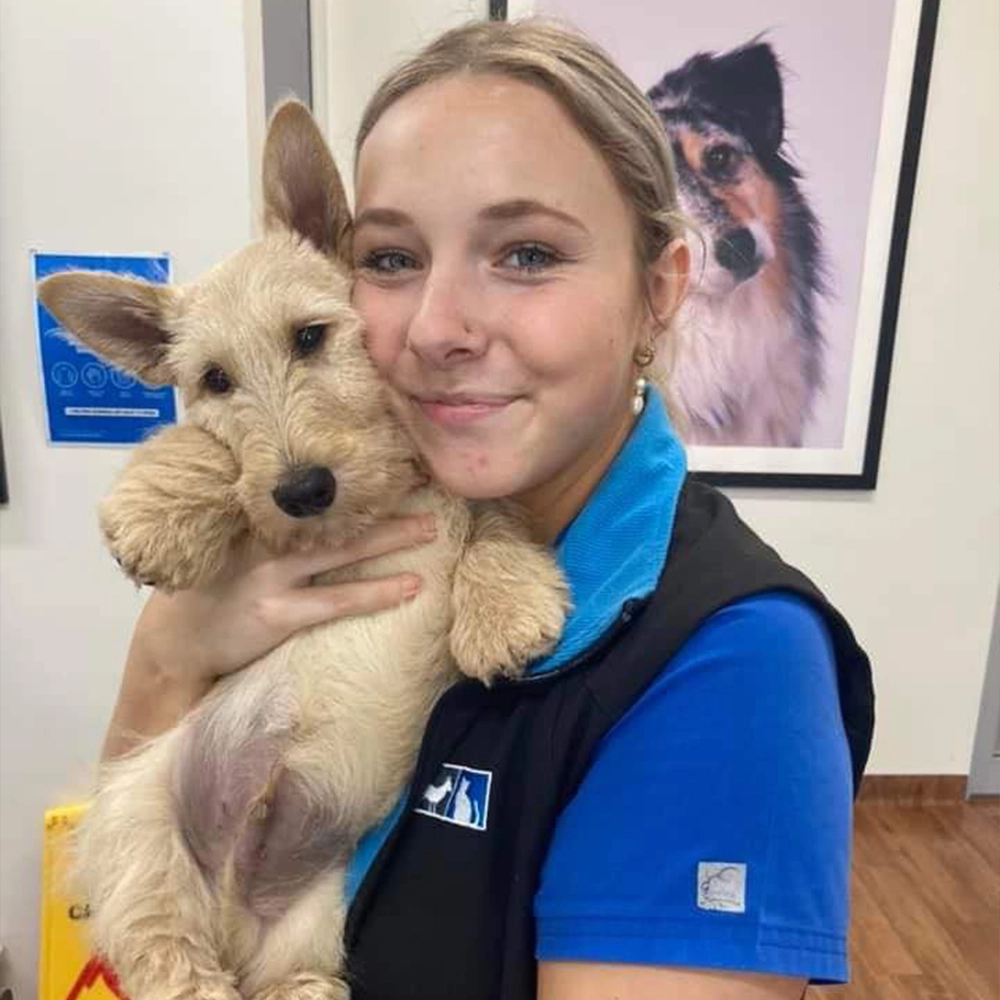 Molly Percival
Junior Veterinary Nurse
Molly's Bio
Molly started with us as a volunteer while completing her certificate 3 in animal studies in 2020. Since then she has progressed to a kennel hand and now works as a junior nurse while completing her Certificate IV in Veterinary Nursing. She has become a valued and fun member of our team.
Molly loves to make sure all of our boarding cats are pampered during their stay. She also has a keen interest in post operative care of surgical patients, making sure they are cared for and supported during their recovery in hospital and following up with their owners to see how they are recovering at home.
When not at work Molly loves spending time at the beach and with her her cat called "Cat".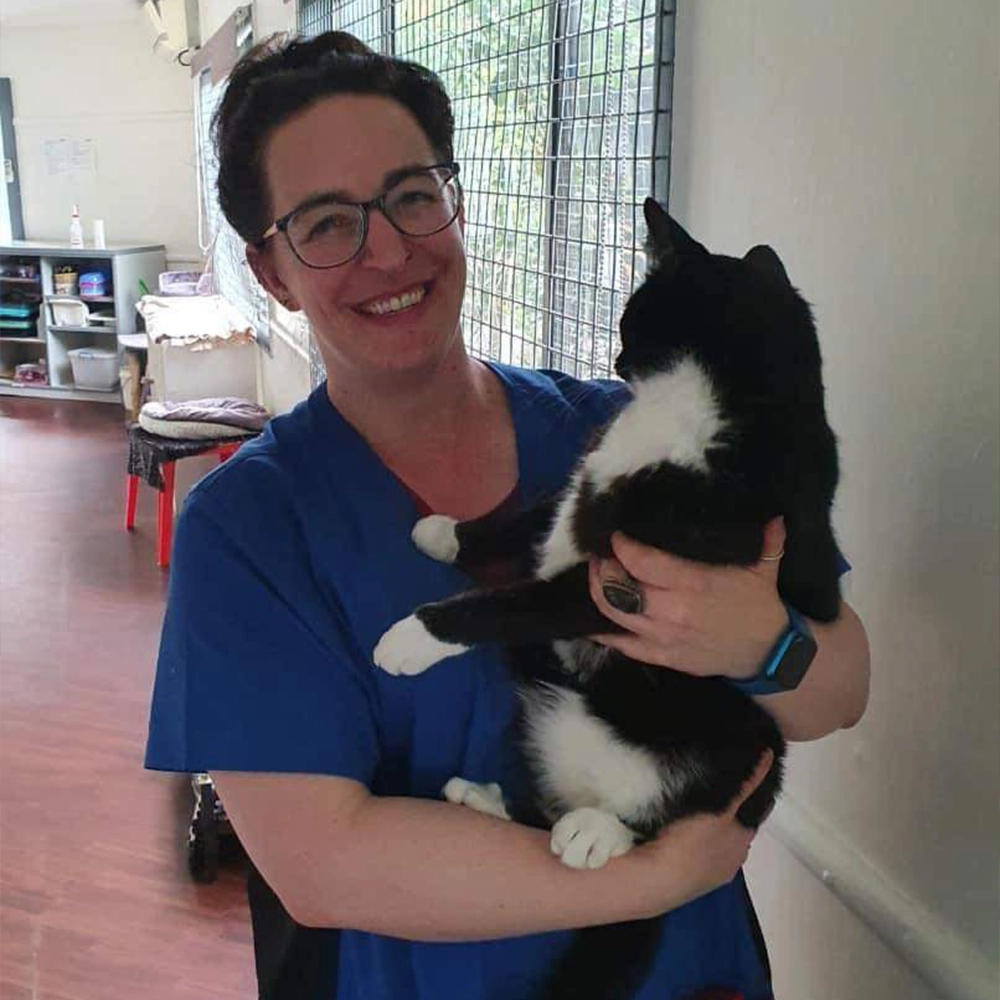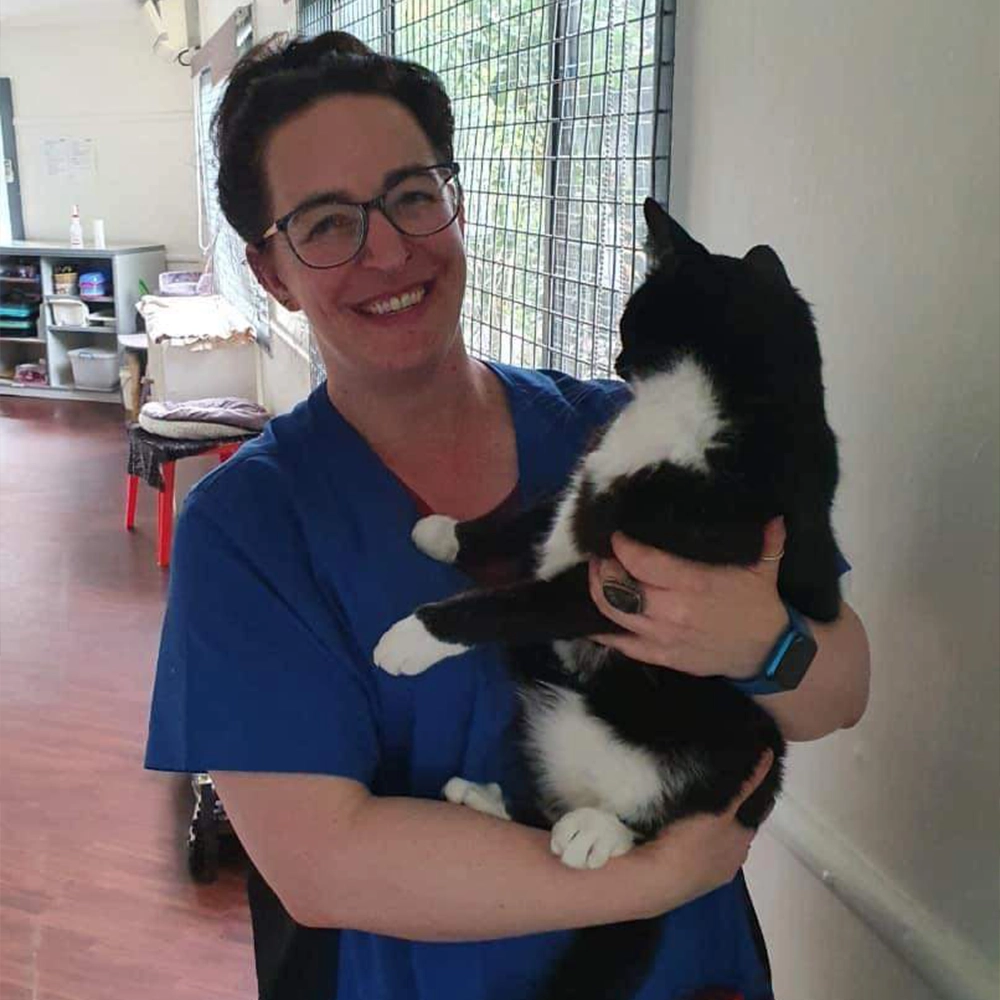 Hannah Ashford
Veterinary Nurse
Hannah's Bio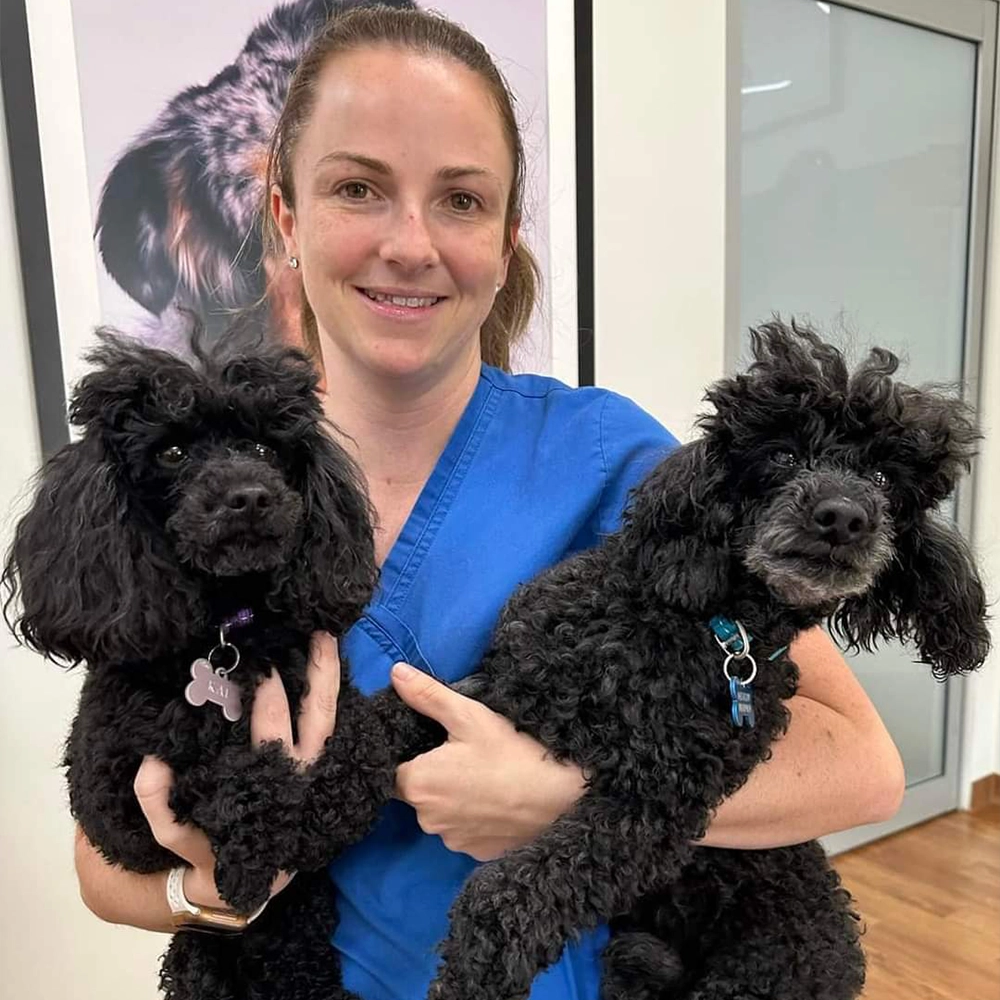 Nikeah Locke
Veterinary Nurse
Nikeah's Bio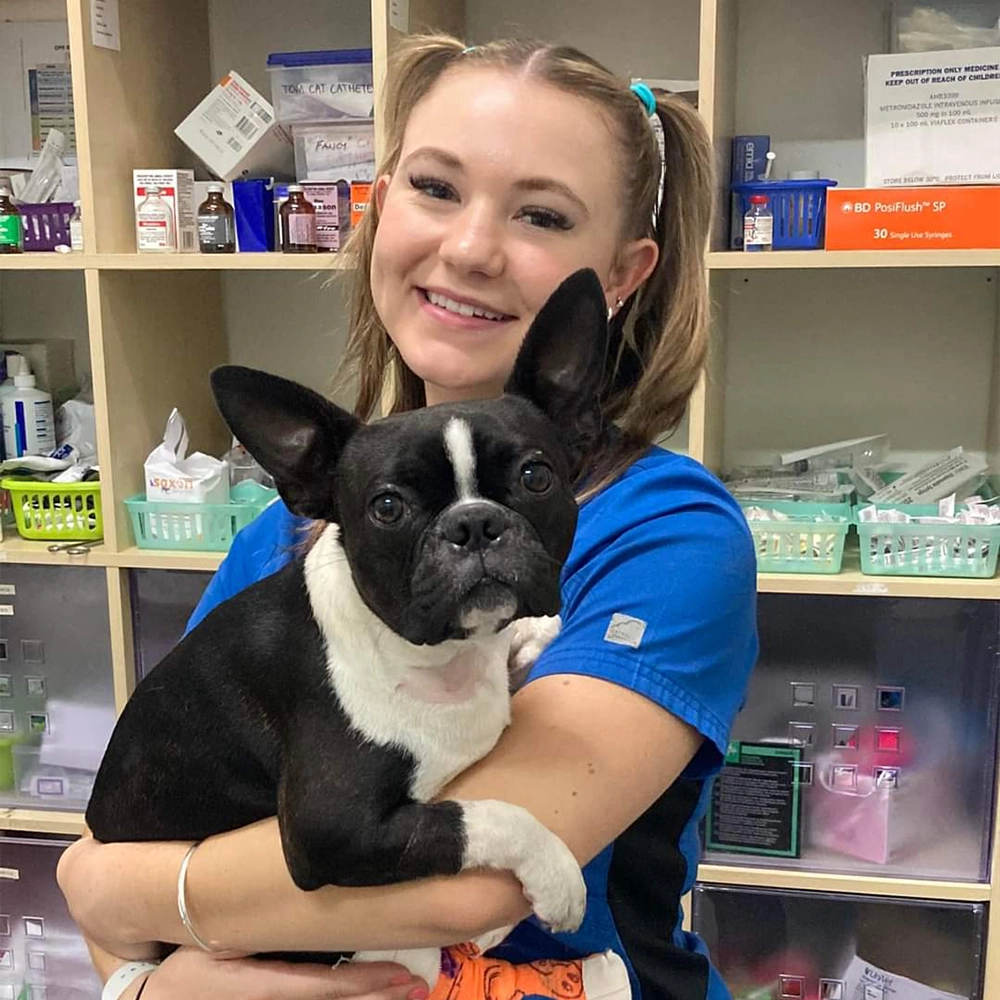 Jess Hollow
Veterinary Nurse
Jessica's Bio
Jessica chose veterinary nursing as she loves to help animals and be a voice for them, she enjoys all aspects of the job especially pathology and emergency nursing.
Jess's most memorable moment was to assist in an exploratory laparotomy surgery where a nerf bullet was removed from a cat's intestines.
Jess is currently very busy completing a science degree when not working with us, in her spare time she enjoys horse riding, getting creative and spending time with family and friends.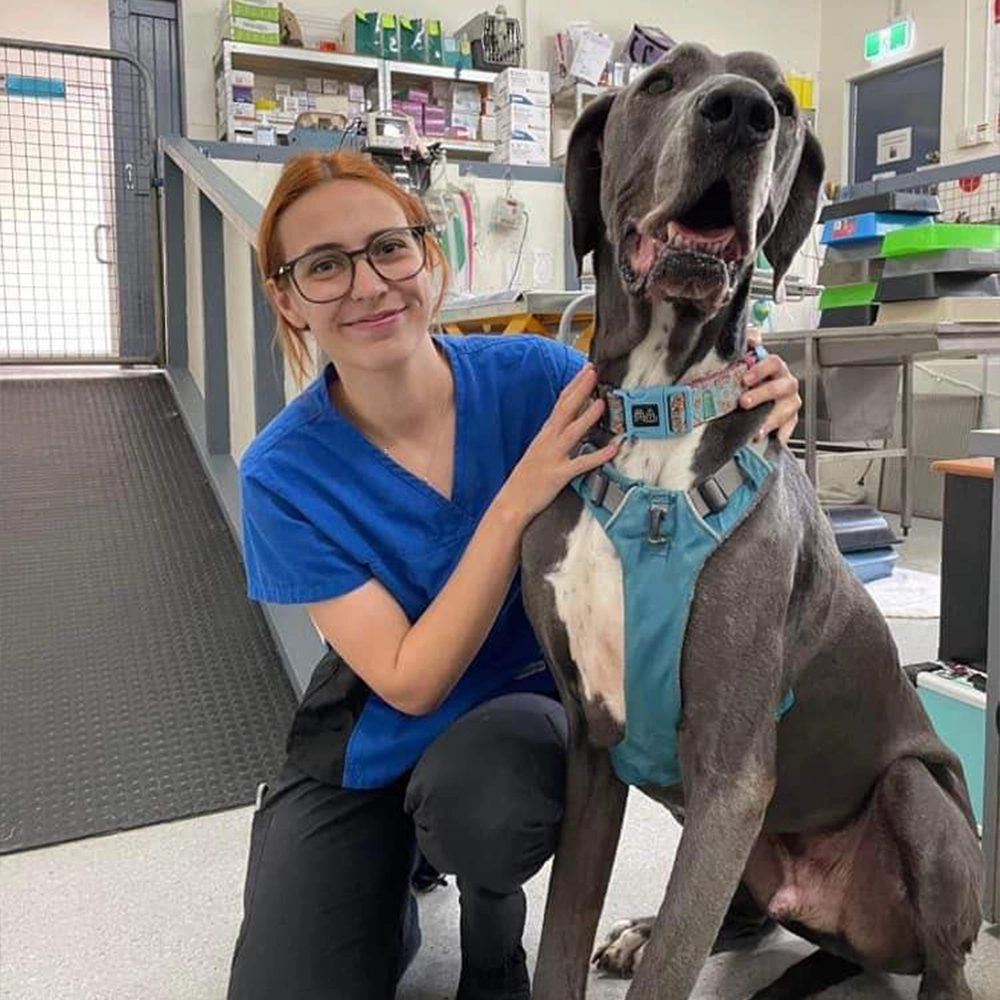 Grace Osgerby
Junior Nurse
Grace's Bio
Grace started as a volunteer with us while she completed her Certificate II in Animal Studies and she is now one of our fantastic junior veterinary nurses and is studying to complete her Certificate IV in Veterinary Nursing.
Grace loves all aspects of the job but has a special interest in pathology and rabbit medicine.
Grace has a rescue rabbit called Sebastian and a 4-year-old rescue cat called Ruby. During her spare time Grace has her own jewellery business, creating unique handmade pieces.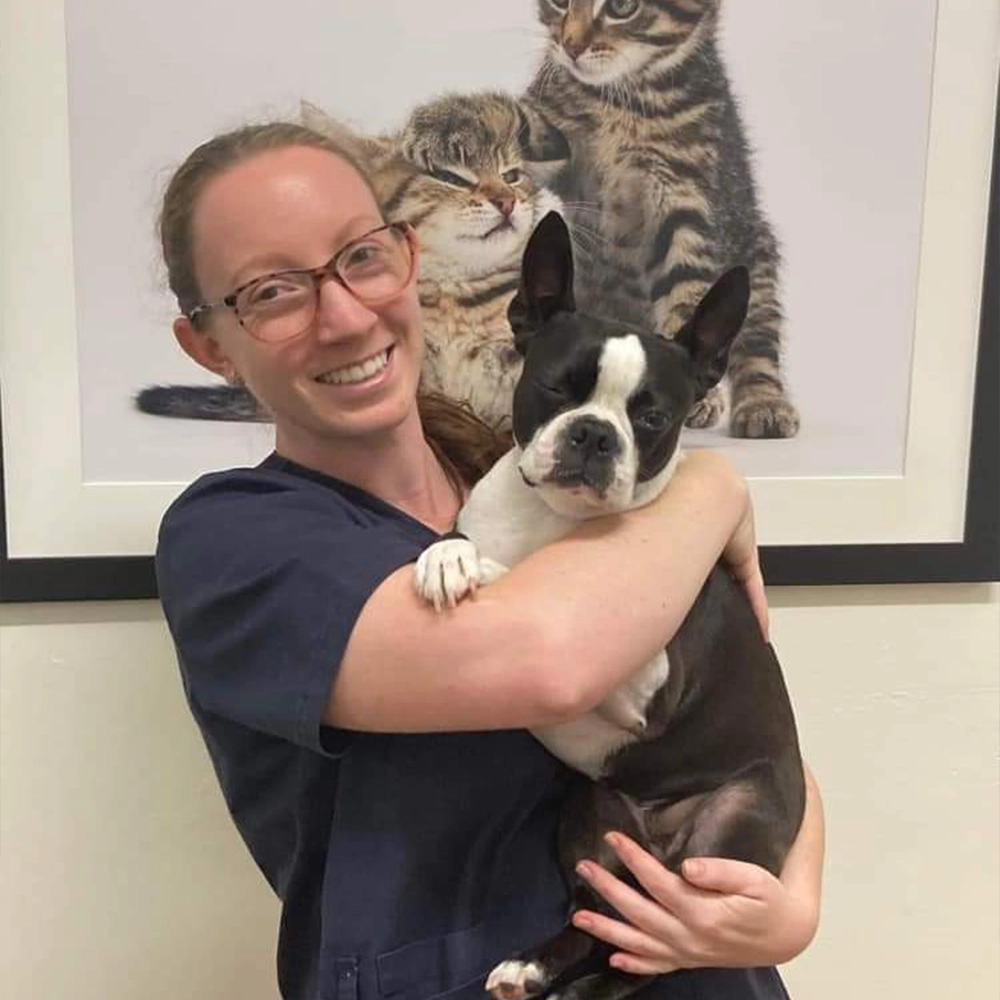 Tracey Wilson
Junior Nurse
Tracey's Bio
Tracey joined our team in March 2022 after moving to Australia from New Zealand.
Tracey is one of our fantastic junior veterinary nurses and is currently studying to complete her Certificate IV in Veterinary Nursing. You will see Tracey at our Austinmer Hospital and Helensburgh Clinic.
Tracey has a keen interest in surgery, reptiles and native wildlife. Working in country New Zealand Tracey has fond memories of bottle feeding and raising lambs, drenching sheep and herding alpacas.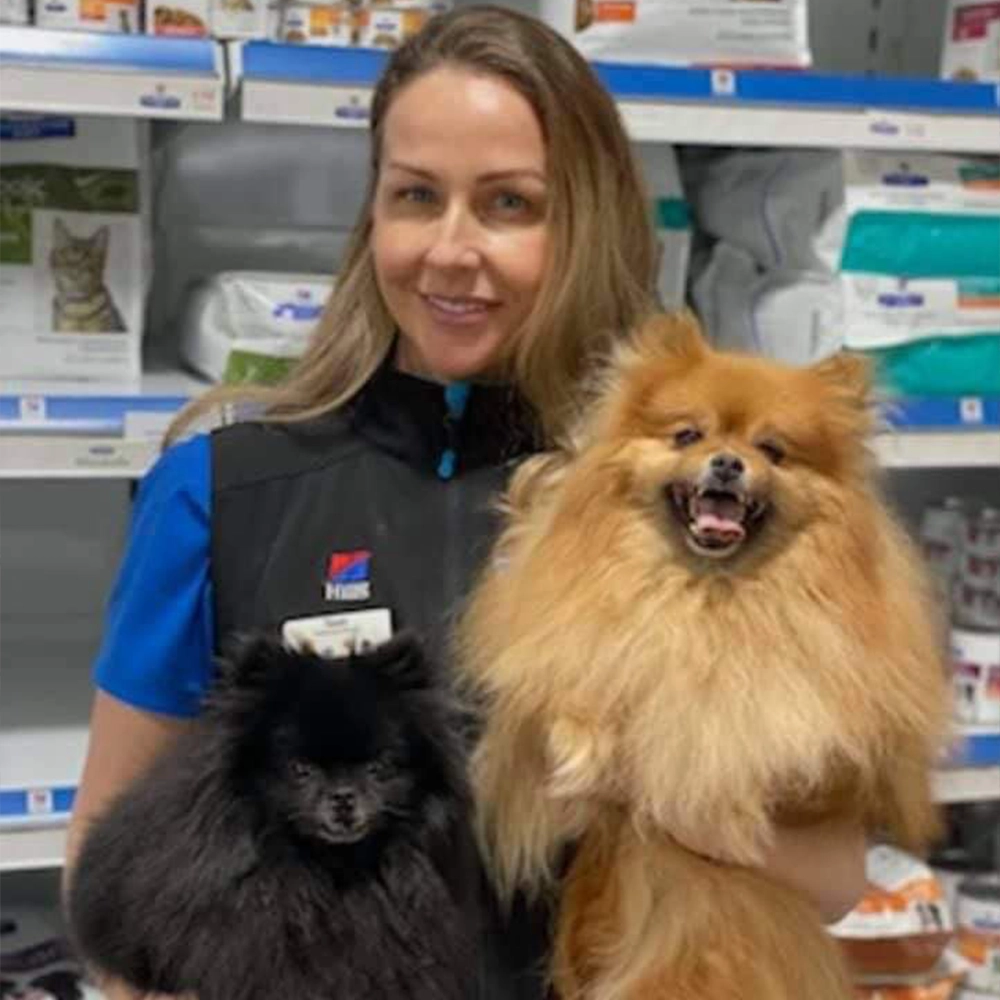 Tash Huzyliak
Veterinary Nurse
Tash's Bio
Tash started with Austinmer Veterinary Hospital in 2004 as a vet nurse student and has never left.
She is a familiar face at our Helensburgh Clinic as are her Pomeranian pups, Bentley and Porsche.
Being a local within the Northern Illawarra community, Tash loves meeting & greeting our clientele but also thoroughly enjoys working behind the scenes in anaesthesia with particular interest in dental procedures & caesareans.
In her spare time Tash has two small children to keep her busy, she loves snowboarding and can often be found chasing Winter around the globe.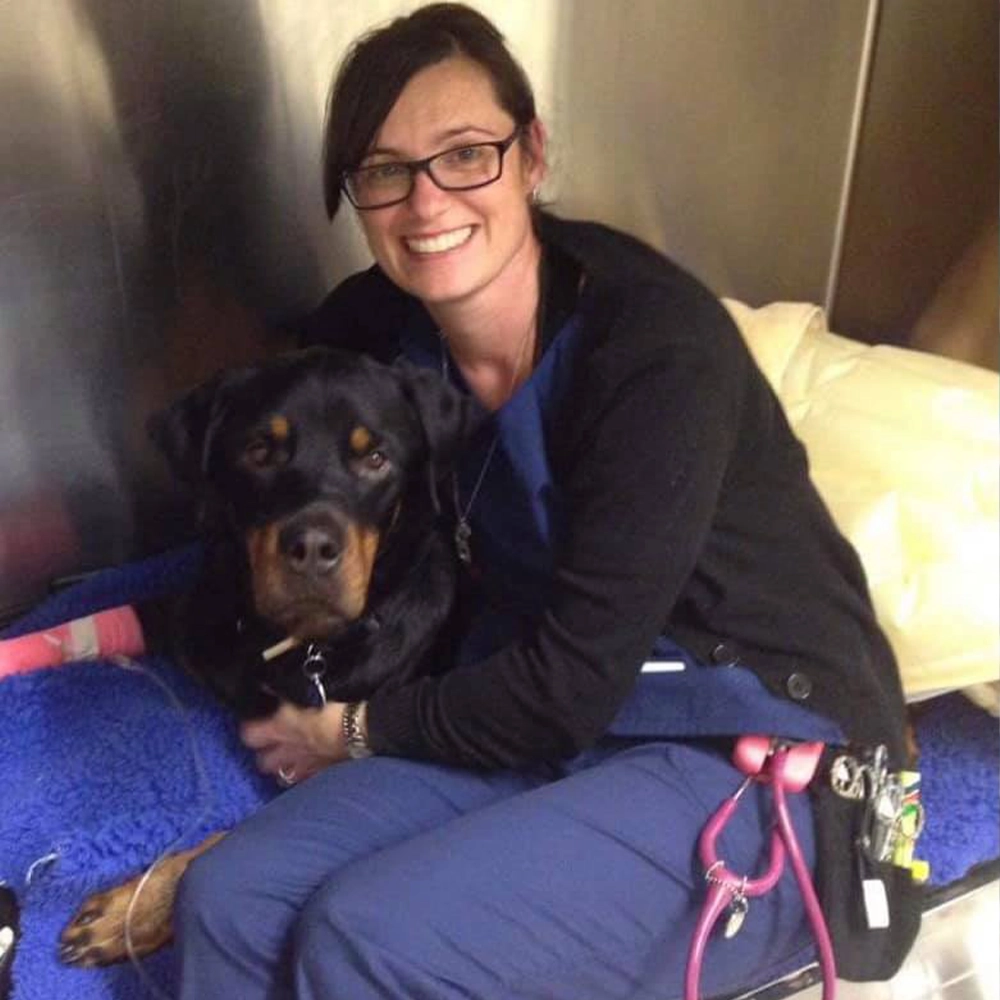 Ebanie Cartwright
Veterinary Nurse
Ebanie's Bio
Ebanie joined our team in early 2019 and now calls our Helensburgh clinic home.
With 12 years of nursing under her belt including a few years at the Sydney University Emergency Centre its no surprise that Ebanie has a passion for emergency medicine, she also enjoys behaviour and puppy training.
While most staff have the standard pet cat and dog at home Ebanie has a tank full of Yabbies and of course a few standard pets too.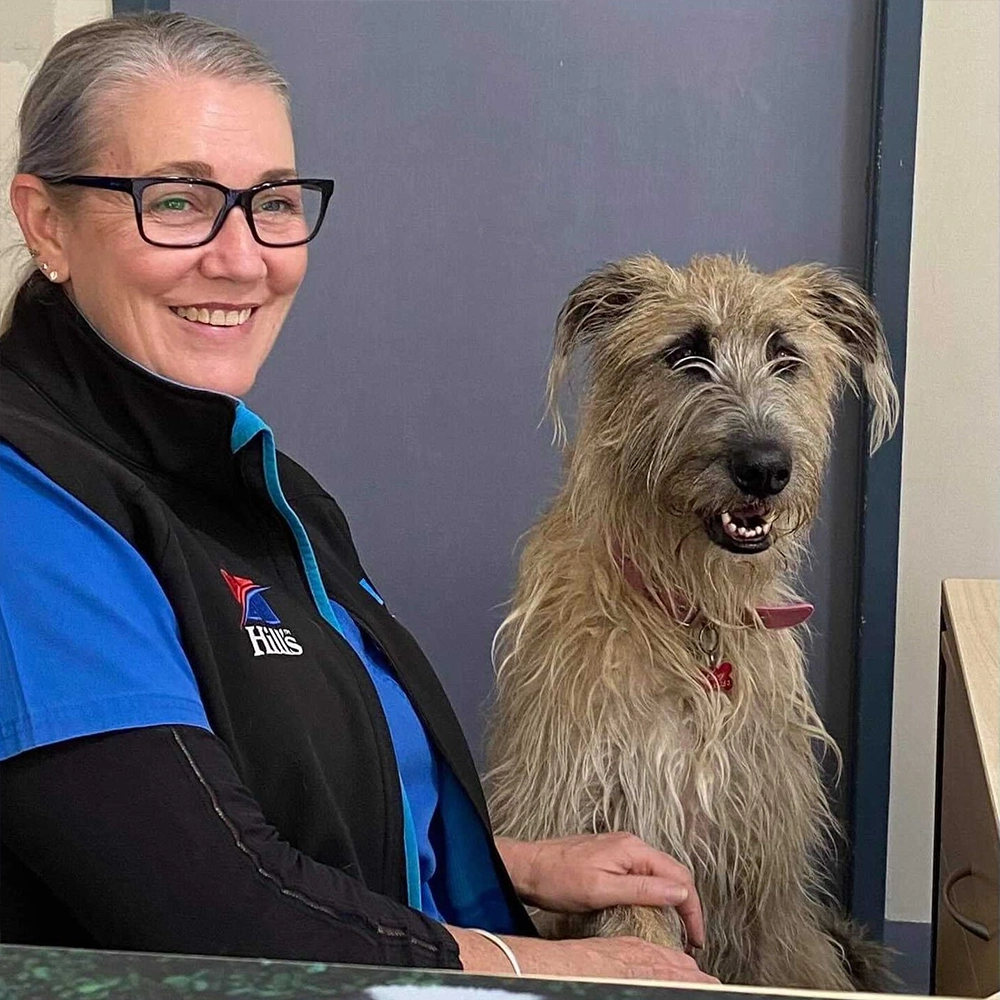 Rachel Kenworthy
Veterinary Nurse
Rachel's Bio
Rachel decided on a career change in her forties and bravely jumped ship to complete her veterinary nursing work placement with us. Rachel excelled in her TAFE studies receiving an award for excellence.
We are so happy Rachel joined the team at our Helensburgh Veterinary Clinic , She has a passion for surgical and medical cases and with her gentle, kind and caring nature your pet is always in good hands.
Rachel's other passion is her rescued Irish Wolfhound Cross Audrey, they are frequently at the dog beach, you can't miss Audrey she will be the tallest dog on the beach.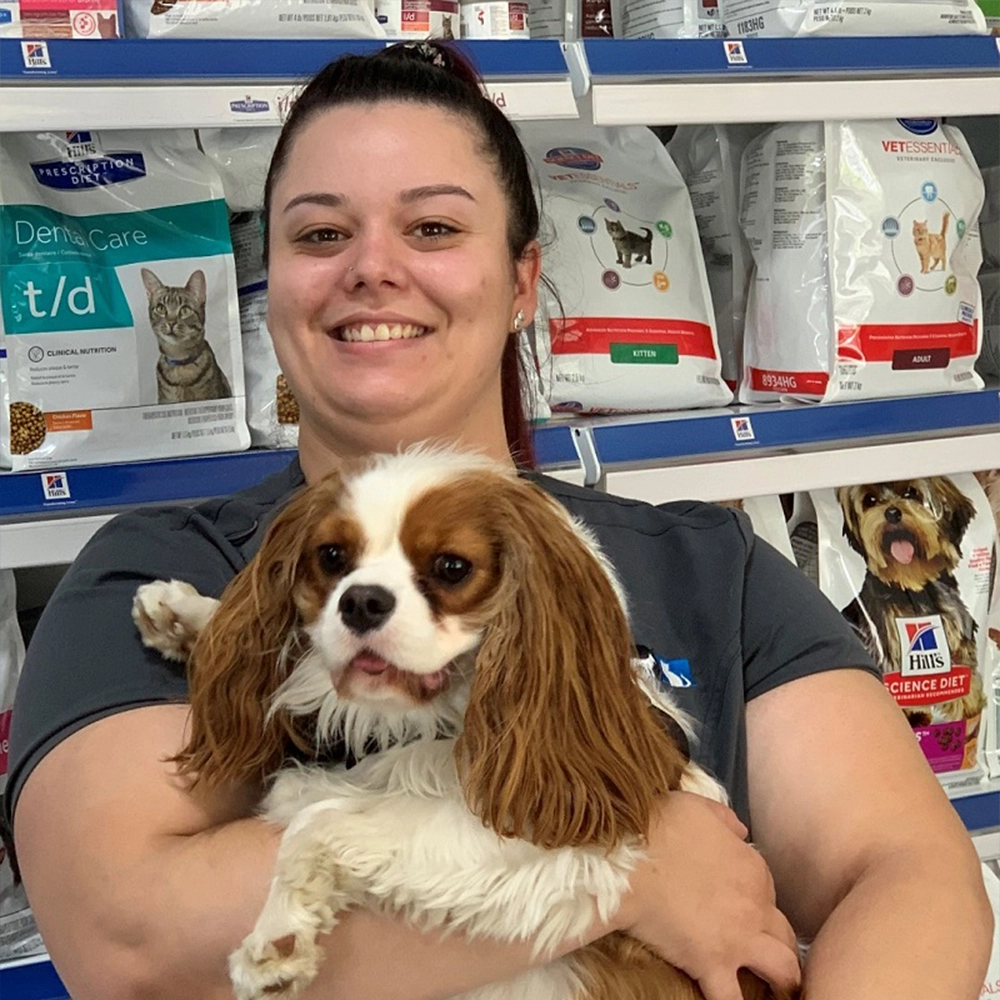 Maddie Jenkins
Veterinary Nurse
Maddie's Bio
You will find Maddie at our Helensburgh clinic, Maddie joined us in August 2019 and brought with her 5 years of nursing experience.
Maddie has a special interest in emergency nursing and infection control, one of her favourite parts of the job is when sick or injured animals get better and can go home to their families. A memorable moment for Maddie was assisting in a surgical procedure to remove a bright blue G string from a Labrador's intestines. The Labrador had eaten his owner's underwear causing an intestinal blockage.
During the short time Maddie has been with us she has rescued a stray kitten now called Doug and she has a beautiful Cavalier King Charles Spaniel called Arlo.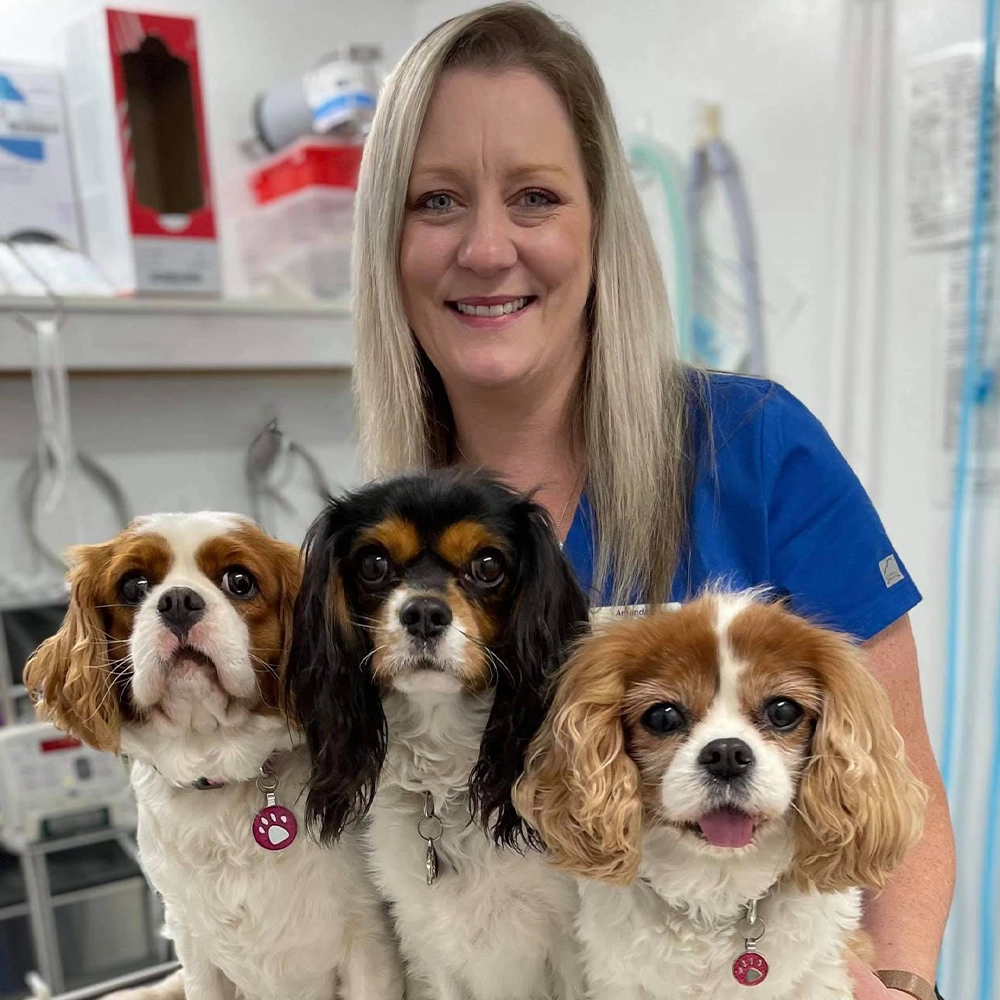 Amanda Shute
Veterinary Nurse
Amanda's Bio
Amanda joined the team at our Helensburgh Clinic in 2020. With a love for surgical nursing, it's no surprise one of her favourite cases was a border collie caesarean! "Being able to help deliver the 6 puppies and providing life starting care was so rewarding." Amanda also has a keen interest in pet behaviour, training and has previously completed a sniffer dog course.
She confesses to being Cavie crazy and is a proud mum to three Cavalier King Charles Spaniels, Truffle, Delilah and Bernadette, who all join her on the paddle board on her days off.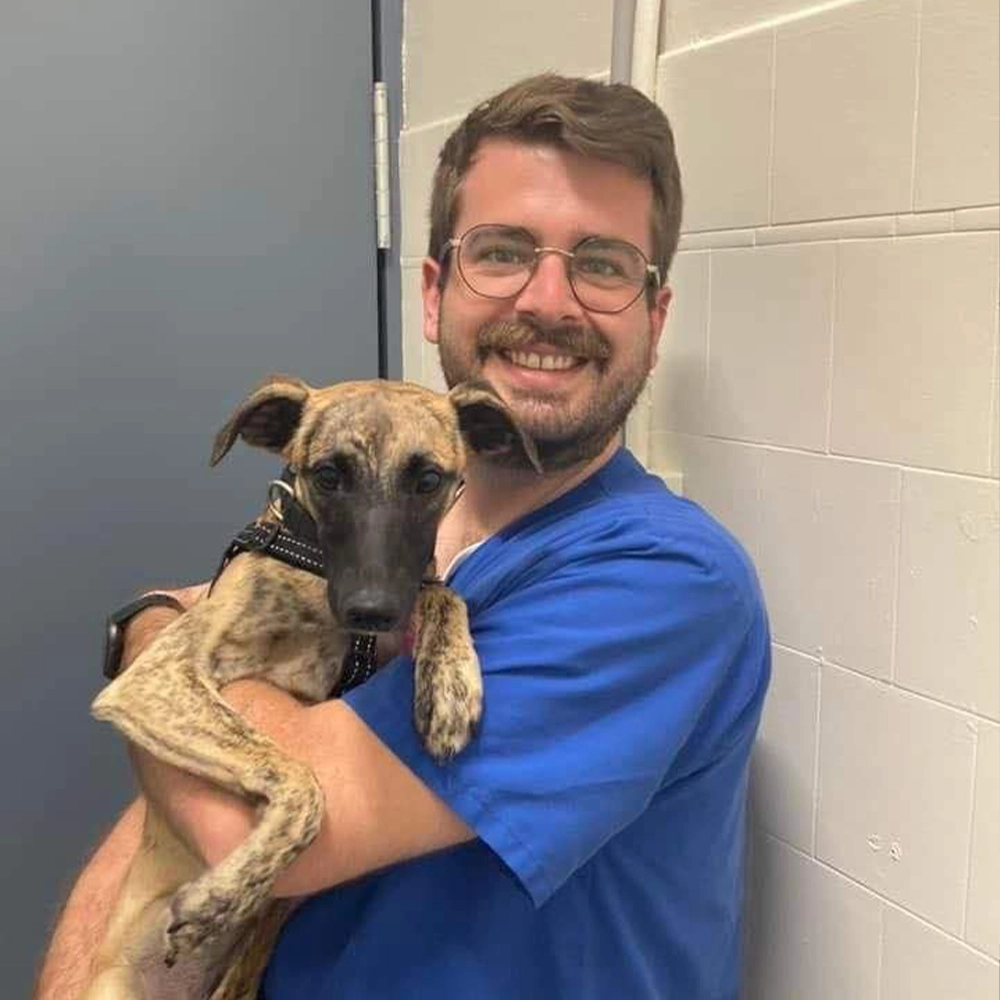 Kaj Amnell
Junior Veterinary Nurse
Kaj's Bio
Kaj has been apart of our team since September 2021 after deciding to make a career change from hospitality to veterinary nursing.
Kaj's desire to learn, genuine compassion, love of animals and initiative is perfect for this industry and he is currently completing his Certificate IV in Veterinary Nursing.
Kaj has a keen interest in animal welfare and surgery, the most memorable surgery he has helped with is a dog that needed an exploratory laparotomy to remove a rock it had eaten.
Animal welfare and supporting various charities is important to Kaj, he is also kept busy with his 4yr old energetic Labrador Flynn.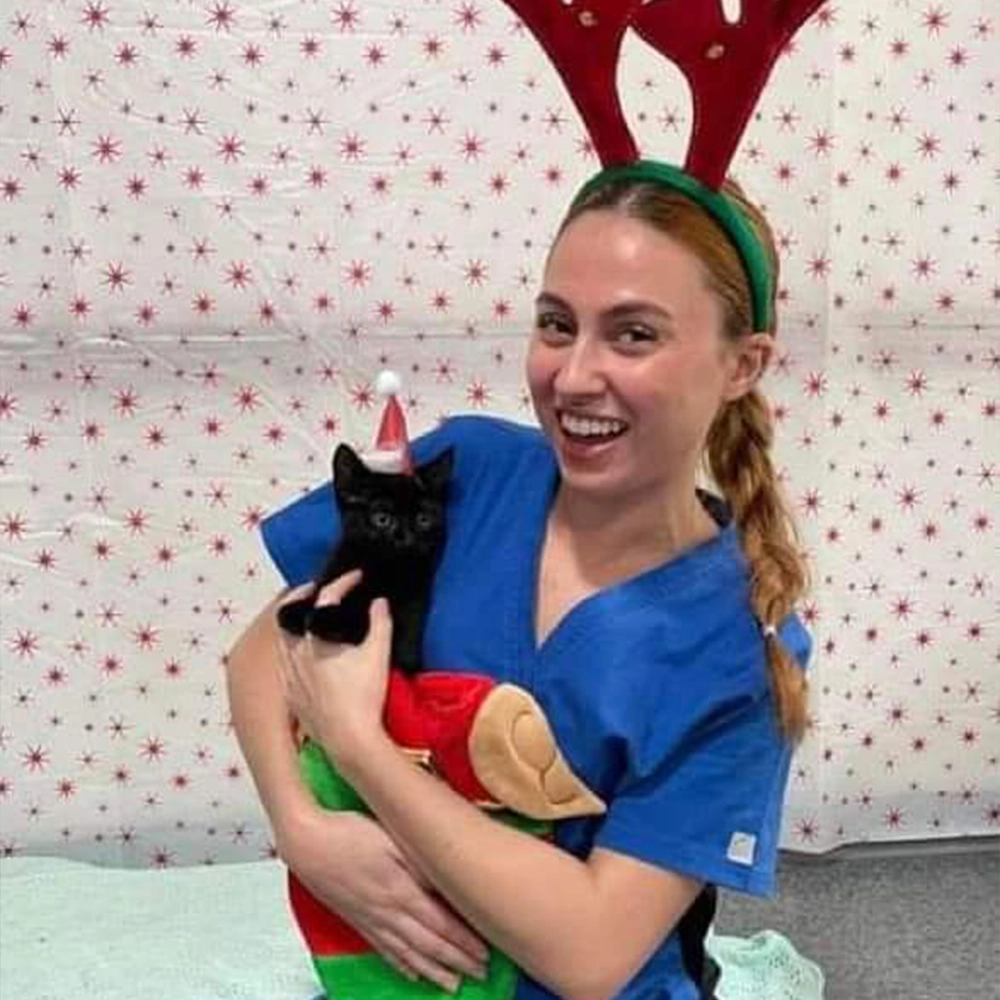 Sophia Liberti
Casual Veterinary Nurse
Sophia's Bio
Sophia has been a veterinary nurse since 2019 and joined our nursing team to cover maternity leave in 2021 and she is still helping us.
Sophia is passionate about animal welfare and kitten care, she has 5 cats at home which she rescued and a gorgeous Belgian shepherd called Bells.
When not at work Sophia can be found hiking her favourite Illawarra trails.
Meet the Team – Customer Care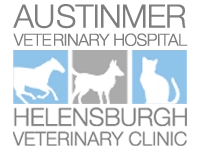 Jade Tavares
Customer Care
Jade's Bio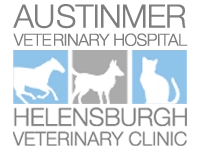 Katie Leitch
Customer Care
Katie's Bio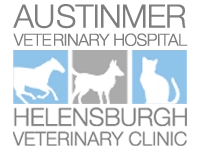 Jennifer Goodwin
Customer Care
Jennifer's Bio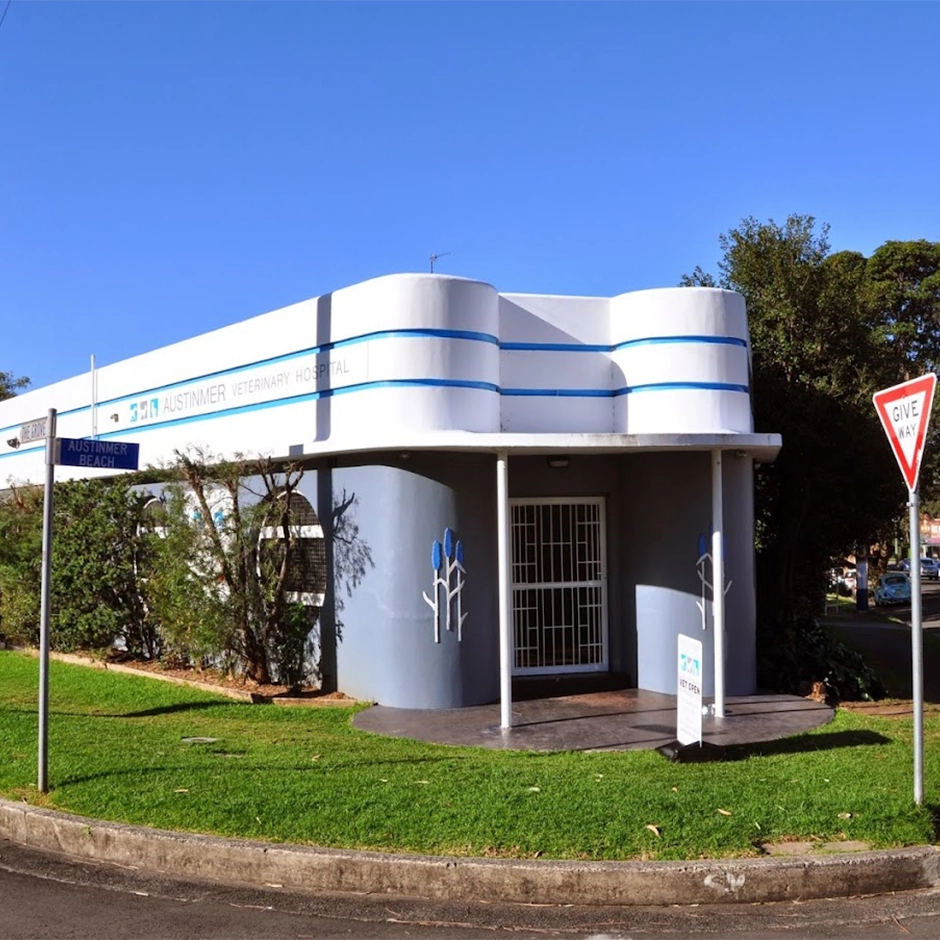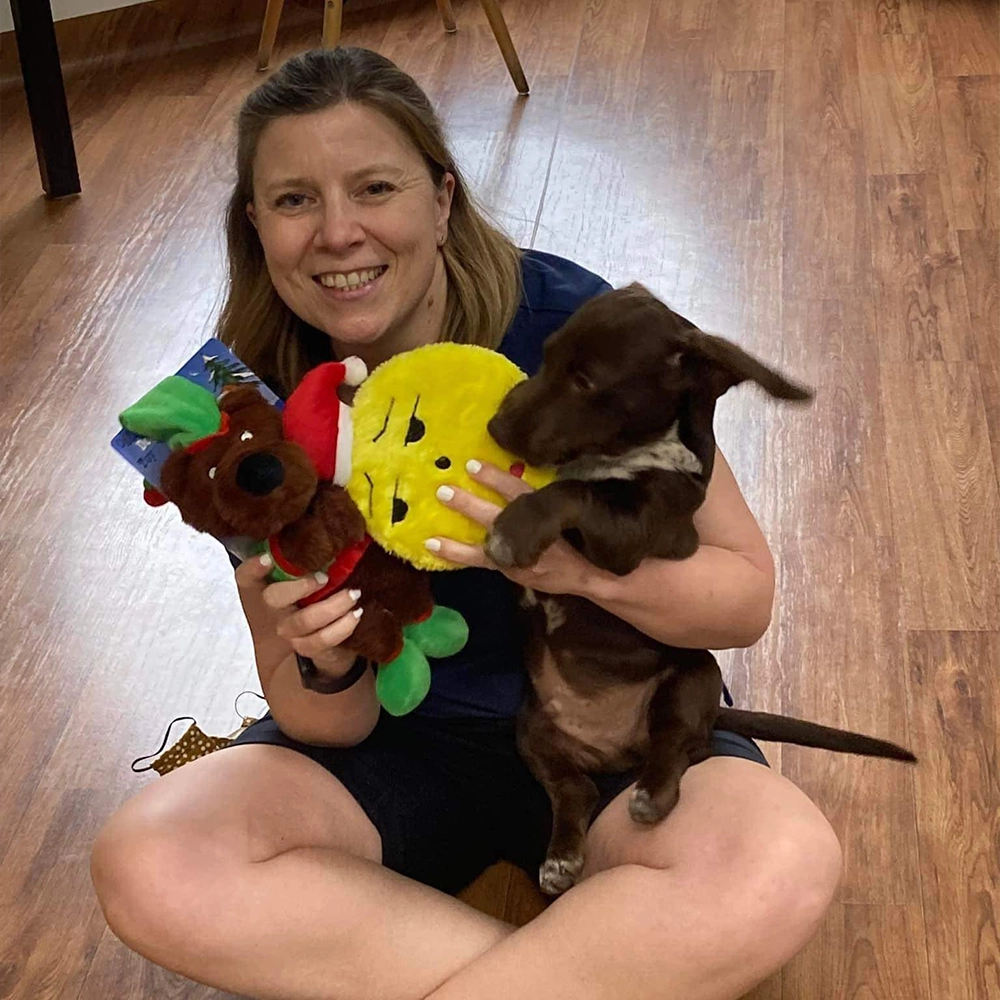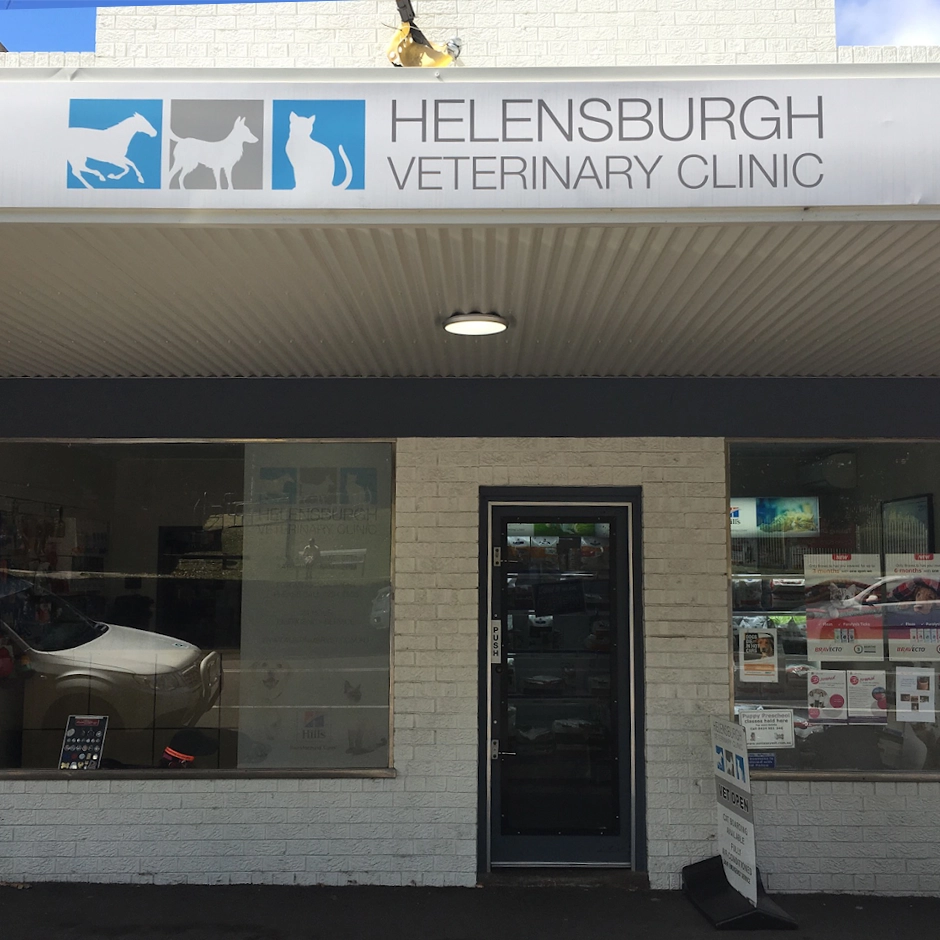 Please do not use this form for emergencies or bookings. If you'd like to make a booking, contact us.
For after hours emergencies, phone (02) 4268 3353